Diamond Engineering
This striking structure that is home to over 6,000 students from the Faculty of Engineering. The Diamond has the capacity to educate top quality engineers that the UK needs to address the skills shortage in the sector, those that will go on to tackle the biggest challenges facing the modern world.
Current job vacancies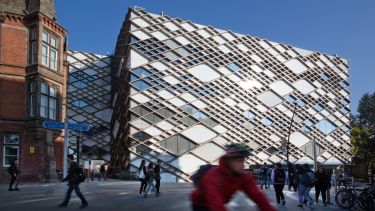 We are a cross-faculty department responsible for delivering practical teaching for the Faculty of Engineering within extensive laboratory and workshop facilities.
Check out our latest vacancies
The Diamond Building Information
Contact Us
The University of Sheffield
Faculty of Engineering
Multidisciplinary Engineering Education
The Diamond
32 Leavygreave Road
Sheffield S3 7RD
Ask Us
AskUS: Get answers to your questions
Browse our frequently asked questions to get the answers you need.