Opportunities for students: iForge and Digital Innovation Zone
The Diamond is a unique place for students to create and learn, and iForge and the Digital Innovation Zone are the perfect spaces for them to do so.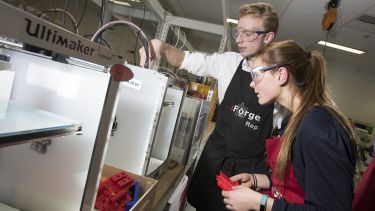 iForge
The iForge is a makerspace for students and run by students. With ample facilities to take advantage of including laser cutters, 3D printers and a CNC router and mill, there's plenty of opportunity for students to get stuck in and enhance their creativity. 
---
Digital Innovation Zone
We are the first university to join Siemens' Digital Innovation Network through The Digital Innovation Zone. The space is situated in the Diamond building, aims to further collaboration between Siemens, the University of Sheffield and the Sheffield City Region to accelerate digitalisation, boost digital skills, and promote technology and knowledge exchange to meet the needs of an increasingly digitalised industry.  
The physical working space provides the opportunity to demonstrate real examples of digital solutions as well as providing a high quality venue for public presentations and events, research workshops, seminars, teaching, meetings, and student access to library services.
It also provides access to Digital Innovation Zone, Siemens' Internet of Things (IoT) operating system and data analytics services, alongside support from two Siemens engineers on site.
---
Using digital technologies to transform business operations is key for the UK to drive competitiveness, improve national productivity and take advantage of the commercial opportunities offered by an increasingly digitalised industry. We believe this innovative network heralds a new eco-system enabled by The Digital Innovation Zone, which will provide a vital new model for collaboration between institutions, departments and other key stakeholders to universities.

Juergen Maier

CEO, Siemens UK (July 2014 - January 2020)
---
Why is it important?
The Internet of Things (IoT) refers to the interconnection via the internet of computing devices embedded in everyday objects, enabling them to send and receive data. It facilitates the provision of smart sensing, analysis, and control services in many domains (personal, commercial, industrial, environmental etc.).
Examples include the ability to control central heating from your mobile phone, monitoring and assessment of the operational health of factory machines or raising an alarm when someone who is ill has not taken their medicine. Most predictions indicate that there will be over 20 billion objects in the IoT by 2020.
The Internet of Things is clearly taking off. IoT is central to the automation that underpins many aspects of the UK's Industrial Strategy and is a major technology behind anticipated digitisation of the UK as recommended by the independent Made Smarter review, led by Juergen Maier (CEO, Siemens UK July 2014 - January 2020).
Development of the Digital Innovation Zone further enables Sheffield to stay at the forefront of these developments.
---
What are the opportunities?
An ongoing programme of activities is being developed to exploit IoT in research, teaching and for digitising the Sheffield City Region.
Students will gain access to data from live assets and a physical working space that allows them to collaborate, create and be inspired.
Academics will be able to work with businesses alongside Siemens, their partners and customers, to generate insights in data analytics, visualisation and cyber security.
Sheffield City Region businesses will be able to develop diverse and innovative digital solutions to their industry challenges through collaborations with students and academics.
---
Contacts
For enquiries about the Digital Innovation Zone or the broader Siemens partnership, please contact:
A world-class university – a unique student experience
Sheffield is a research university with a global reputation for excellence. We're a member of the Russell Group: one of the 24 leading UK universities for research and teaching.