One of the strategic aims of Engineering at Sheffield is to provide students with state-of-the-art, practical laboratories and equipment.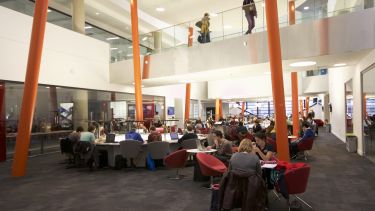 Most of the engineering laboratories in the Diamond are designed to accommodate 80 students. Supporting these laboratories is a dedicated Diamond engineering team of over 40 staff, who will work closely with each of the engineering departments to ensure the activities you undertake integrate with your degree programme.
There is also a Project Space and Workshop for students to undertake practical work in their own time.
Student-Led learning spaces - 969 spaces
Level 0 - library collection, group study rooms, independent study spaces.
Level 1 - social space with soft seating, computer spaces around moonscape panels, independent study space, flexible study space with moveable furniture
Level 2 - study balcony with distraction-free study booths
Level 3 - 6, 10 and 20 seater group study spaces, study balconies with distraction-free study booths, an enclosed silent study space, group/individual study space with irregular-shaped connected tables
Level 4 - independent study spaces, the main CiCS and Library service point, support for student creative media, 8 acoustically insulated recording booths, tv studio with fixed cameras, multi-point recording and a green screen, several rooms with media editing facilities, small flexible teaching space called the skills suite, Library collection of 10,000 reference books, silent study spaces, with corner spaces featuring little clusters of pods.
Computer labs - 411 computers
Computer Room 1, Level 2, 160 seats
Computer Room 2, Level 2, 70 seats
Computer Room 3, Level 2, 139 seats
Computer Room 4, Level 2, 42 seats
A world-class university – a unique student experience
Sheffield is a research university with a global reputation for excellence. We're a member of the Russell Group: one of the 24 leading UK universities for research and teaching.