Our vision: we collaborate to deliver excellent teaching and memorable learning experiences that transform students into independent, practical engineers.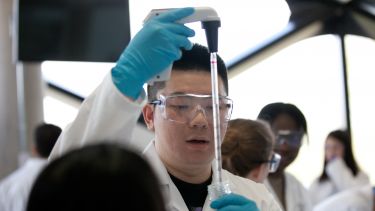 Off
MEE - Multidisciplinary Engineering Education
Multidisciplinary Engineering Education (MEE) is an award winning, dedicated teaching department that works closely with Faculty of Engineering departments to deliver innovative practical laboratory sessions to undergraduate students. The team are based in the Diamond, the faculty's largest ever investment in teaching and learning which houses 19 specialist laboratories designed to create a fantastic place for interdisciplinary engineering education.
MEE recently won the Collaborative Award for Teaching Excellence (CATE) - an award recognising the team's commitment to delivering sector leading practical education that transforms students into capable engineers.
We have:
Over 50 staff members ranging from technical teaching staff, professional services to professors
19 lab areas that are available to all students across all engineering departments 
Over 5000 engineering students using our labs
Achieved integrated practical and non-practical course design in CBE, ACSE and MEng Engineering
Developed a strategy to develop skills leading to independent experimental practitioners
Attracted and inspired many visitors through tours of the Diamond building and labs
Delivered teaching excellence to first and second year students since the Diamond opened in September 2015
Specialist engineering labs, project spaces and workshops offering engineering students more practical learning opportunities such as the student-led iForge
Engineering Reception Desk
The Engineering Reception desk is located on Level 3 and is staffed from Monday to Friday 08:30 - 16:30.
They can be contacted by telephone on +44 114 222 6155 or via email diamond-lab-support@sheffield.ac.uk
If you need to contact someone about the Diamond's engineering laboratories, please e-mail:
diamond-lab-support@sheffield.ac.uk