Resources provided by the University that students can take advantage of in The Diamond.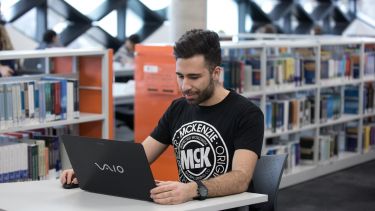 On
Library
The Library & Creative Media Help Desk is located on Level 4 and is staffed from Monday to Thursday 09:00 - 17:00, and on Friday 10:00-17:00.
The Diamond is open round the clock and is unrivalled for its innovation in study facilities. You'll have access to digital resources, the most in-demand textbooks and over 1,000 study spaces. The Diamond also features sector-leading creative media facilities, including private editing booths and a full TV studio. It has some of the best engineering teaching spaces in the UK.
The Diamond is a 24-hour learning space that offers 1000 study spaces to all students in all departments.
There are 48 laptops available to borrow from the self-service area on level 4 of The Diamond.
At the self-service area, you just need to scan your Ucard, enter your library PIN number, and you're good to go.
You must remember to plug the charging cable back into the laptop when you return it. If you don't, the laptop will stay on your account.
The laptops are available 24 hours a day for use in the building on a first come first serve basis, no need to book in advance. They can be used for up to 24 hours.
A world-class university – a unique student experience
Sheffield is a research university with a global reputation for excellence. We're a member of the Russell Group: one of the 24 leading UK universities for research and teaching.