Aerospace Lab - Simulation & Propulsion
(Room 1.05 - First Floor)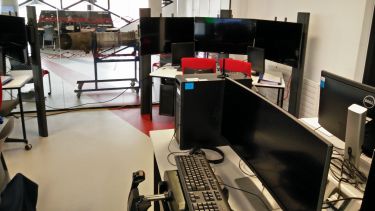 Overview:
Simulation lab:
The Aerospace Simulation Laboratory provides hands-on experience of aircraft design and performance, using state of-the-art flight simulators. Students can look at flight performance and stability, and test fly aircraft to determine their suitability for commercial or military purposes.
As well as studying full-sized aircraft, students can learn to fly UAS drones using software simulation and commercial UASs. Facilities also exist for the design, manufacture and testing of self-designed systems.
Propulsion lab:
Within the facility the Jet Propulsion area contains a working Turbine Solutions Lab 100 jet engine, enabling students to measure its performance under different conditions. Students will get the rare opportunity to access a working jet engine, complete with a control bench that allows changes in throttle position so that pressure and temperature can be accurately measured. Additionally there are engines that can be taken apart and studied to determine manufacturing routes, materials and control logic.
The laboratory also features a Rolls Royce Gnome engine, on loan from the company's Heritage Collection which can be examined using borescopes to reveal how a full-sized engine is built and controlled.
Students will learn:

Study the thermodynamics and construction of jet engines.
Learn to fly unmanned aerial systems (UAS) both in simulation and in practice.
Design, build and test your own UAS designs.
Learn operational processes of piloting aircraft using modern simulators.
Design full-sized aircraft and test them using state-of-the-art modelling simulators.

What equipment is in this lab?

4 Merlin static flight simulators for aircraft design
6 X-Plane and DRL enabled flight and drone simulators for flight control and navigation
Netted area and 6 commercial UAS drones for flight training
A Turbine Solutions Lab 100 running jet engine
20 Wren jet engines to take apart and analyse
Rolls-Royce Gnome turboshaft loaned from RR Heritage

Who uses this lab? / Links to other Departments:

Which staff are in this lab?

Request Use of Equipment:

The flight simulation and drone equipment is available to anyone with an interest in aviation regardless of your degree programme, and guidance will be given where possible on its use.

Please email s.a.hayes@sheffield.ac.uk with:

Your name
Your degree & year of study
What equipment you want to use and why

Please allow 3-5 working days for a response.
A world top-100 university
We're a world top-100 university renowned for the excellence, impact and distinctiveness of our research-led learning and teaching.