Staff profile - Nafise Sadat Moosavi
Dr Nafise Moosavi joined the Department in 2022 as a Lecturer in our Natural Language Processing group. She is also the Deputy Director of Equality, Diversity and Inclusion.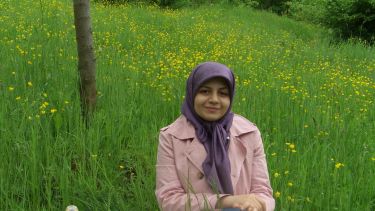 Off
Tell us a bit about yourself and your background:
I am a Muslim Iranian. I studied in Iran for my bachelor's and master's degrees and then stayed in Germany for my PhD and postdoc. I moved to the UK and started as a Lecturer at the University of Sheffield in February 2022.
Why did you choose to work at Sheffield
I like to live in a country where I understand the language, work in a strong department, and be somewhere close to Iran - and Sheffield is that place.
The bonus point is that the people are very nice and friendly in the Department as well as in the city."

Nafise S Moosavi, Lecturer in NLP
What's it like living in Sheffield, what do you like to do outside of work?
Sheffield is a welcoming place for foreigners and Muslims. It is a beautiful city with many green areas, nice cafes and restaurants. I love spending time with my family, walking, visiting nature, climbing, reading about psychology, getting to know people, watching good movies and Samte Khoda (an Iranian TV show), and handcrafting.
A global reputation
Sheffield is a research university with a global reputation for excellence. We're a member of the Russell Group: one of the 24 leading UK universities for research and teaching.