BCSWomen Lovelace Colloquium hailed as a huge success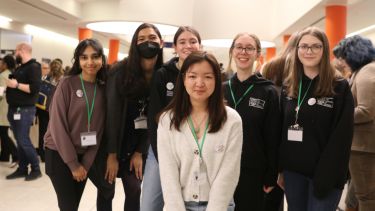 People from all over the UK made the trip to the Steel City for the one-day annual British Computer Society (BCS) conference, now in its 16th year. With guest speakers from academia and industry, a poster competition with top prizes, employer stands, networking opportunities and much more, it was a day to remember.
The event, hosted by the University's Department of Computer Science in the award-winning Diamond building, saw inspirational speakers sharing their expertise, lots of fascinating discussion, and the showcasing of students' brilliant ideas to change the world for the better.
Professor Aline Villavicencio, Chair in Natural Language Processing in the Department of Computer Science, said: "It was a real privilege to host the BCSWomen Lovelace Colloquium and we're delighted to have received such positive feedback from those who joined us on the day".
"Here in Sheffield we're committed to redressing the gender imbalance in computer science and creating an inclusive environment where everyone can achieve their potential. It was inspiring to spend the day with so many like-minded people who share the same goal.
"We have no doubt that the BCSWomen Lovelace Colloquium will continue to go from strength to strength. We're already excited for next year's event!"
Hannah Dee, from BCSWomen, said: "We've run online events for the last three years due to lockdowns and uncertainty about COVID. So it was great to be in person again, meeting all the wonderful students and seeing their fascinating work.  Sheffield did a fantastic job of hosting." 
With over 120 participants selected to share their work in the poster competition on the day, there was an eclectic range of topics for visitors to explore. From addressing the gender gap in STEM to the impact of ChatGPT, judges and visitors alike were wowed by the quality of work on display.
Prizes were awarded at various levels, with two University of Sheffield students taking home awards (full list of winners below).
People's Choice winner Saxon Partridge-Smith, from the University of Wolverhampton, was over the moon to win the award for her poster: 'Navigating the Risks: Securing Artificial Intelligence in the Face of Cyber Threats'.
"It was my first BCSWomen event so far and this was a fantastic way to finish the day. I'll definitely be back!" said Saxon.
"The speakers were absolutely brilliant - I can honestly say they were some of the best talks I've ever been to. Having the opportunity to meet so many other students and learn about their work was amazing too."
The BCSWomen organising committee would like to thank headline gold sponsor Ocado Technology, silver sponsor The Alan Turing Institute; prize sponsors Amazon, JP Morgan, Oxford University's AIMS CDT and the Science and Technology Facilities Council; social sponsors Sumo Digital and Zoo Digital; stall holders Opteran and Keysight Technologies; and all the speakers, visitors and everyone who worked so hard to make the day such a success.
Prize winners
First year or foundation year (sponsored by JP Morgan):
1st place: Genevieve Georgiades, Lancaster University - 'Could IoT solve the care crisis?'
2nd place: Erin Watson, University of Stirling - 'Will my Doctor become a Robot?'
Second year (sponsored by Amazon)
1st place: Qiuye Zhang, Edinburgh University - 'Can Artificial Neural Networks Learn like Brains?'
2nd place: Georgina Parker, The University of Sheffield - 'ChatGPT: Plagiarism's Worst Nightmare'
Final year (sponsored by AIMS Oxford)
1st place: Darya Koskeroglu, Aberystwyth University: 'Pysgodyn Wibli Wobli – 'Can a Robot Do "wibbly wobbly" Like a Fish? A Look into Fish Robotics and its Ability to Mimic Fish Movement'
2nd place: Jasmine Brown, University of Warwick - 'Tappyography: Generating Tap Dance Choreography using Artificial Intelligence'
MSc prize (sponsored by AIMS Oxford)
1st place: Srimoyee Ghosh, University of Bath - 'Artificial Swarm Intelligence in space debris clearance'
2nd place: Radina Kraeva, University of Strathclyde - 'Tracking and Early Diagnostics of Endometriosis | Empower HER'
People's Choice (sponsored by Science and Technology Facilities Council)
1st place: Saxon Partridge-Smith, University of Wolverhampton - 'Navigating the Risks: Securing Artificial Intelligence in the Face of Cyber Threats'
2nd place: Sophie Dillon, The University of Sheffield - 'Can Antidepressant Side Effects Be Predicted Using Modern Technology?'
Weekly online events
Attend an online event when it suits you, all year round, as an alternative to an open day.
Every Wednesday, Sheffield Live sessions cover different aspects of University life. You can also meet your department and learn more about studying your subject.