Congratulations to Prof. Roger K. Moore who has been invited to give one of the INTERSPEECH-2020 tutorials!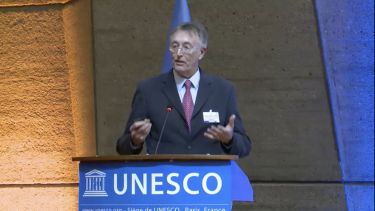 INTERSPEECH-2020 is scheduled to take place in Shanghai on Sunday 25th October 2020. Each conference kicks-off with a full day of tutorials on selected topics.  The tutorials are an opportunity for attendees to receive in-depth tuition from an acknowledged expert in the field.
INTERSPEECH Tutorials take place the day before the main conference, and are thus open to all attendees.  There are eight tutorials to choose from: http://www.interspeech2020.org/program/Tutorials/  
The tutorials have been selected based on a competitive bidding process (this year's deadline was April 3rd: http://www.interspeech2020.org/Calls/Tutorials/).
Prof. Roger K. Moore said 'The majority of INTERSPEECH tutorials cover the very latest developments in speech processing, so it's a special honour that the organisers of INTERSPEECH-2020 have selected a tutorial that focuses on the fundamentals of spoken language and their implications for spoken language processing.  This reflects the breadth of research carried out in the Speech and Hearing (SPandH) research group at Sheffield.'
A world top-100 university
We're a world top-100 university renowned for the excellence, impact and distinctiveness of our research-led learning and teaching.