The Department of Computer Science joins Amazon's Alexa Fellowship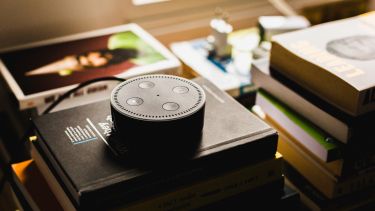 Amazon has chosen the Department of Computer Science to join the Alexa Graduate Fellowship
The program will provide support and mentoring for research and teaching in the Department
The University of Sheffield is among the first universities outside the US to participate in the program
Professor Eleni Vasilaki, Computer Science Director of Research and head of the Machine Learning research group, and Dr Nikos Aletras, Lecturer in Natural Language Processing were selected to help expand the Alexa Fellowship program from the US to the UK. Professor Vasilaki states, "we are proud to have been chosen by Amazon as participants in the Alexa Graduate Fellowship. This collaboration reaffirms the world leading position of Computer Science at the University of Sheffield in the area of Speech & Hearing Technologies and AI in general. This exceptional opportunity will further inspire research on cutting edge, real world problems with the support of an industry leader in the field."
The Alexa Fellowship will support research in the Department by providing funding and mentoring to research students, focussing on those in the Machine Learning, Natural Language Processing and Speech and Hearing research groups. These students, under their Departmental supervisors with the additional guidance from their Alexa Fellowship mentor will push the boundaries of the capabilities of spoken language systems. Dr Aletras will be supervising one of the research projects; "we're really excited to be part of the Alexa Fellowship. It's a great example of synergy between academia and industry giving the opportunity to extremely talented students to carry out world class research and develop innovative language technologies in Sheffield." His project will focus on developing transfer learning methods for repurposing and reusing deep learning models trained on high-resource languages and domains for text classification in low-resource ones.
As well as supporting research, Alexa Graduate Fellows will work with departmental staff to teach conversational AI to undergraduate and postgraduate taught students. As part of the program, students will receive Alexa-enabled devices and learn to use Alexa development tools such as the Alexa Skills Kit (ASK) and Alexa Voice Service (AVS).
Students, taking modules in language and speech technology, will also have the opportunity to attend a new seminar series on voice technology and to put their new skills to the test during a one-day hackathon focused on building new Alexa Skills.