'A great way to make friends' - Sheffield Women in Computer Science Society look for new recruits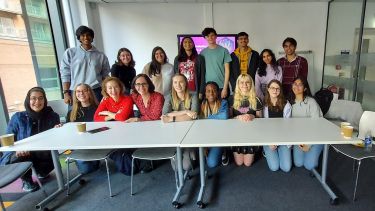 The Sheffield Women in Computer Science Society (SWiCS) is all about bringing people together. Founded in 2019, the aim was to create a community within a subject area that can often suffer from a gender imbalance.
Since then, SWiCS have arranged numerous social events, industry talks and outreach opportunities as well as forging friendships that will last long into the future. As the new year begins, SWiCS are hoping to welcome some new recruits to their ranks.
The incoming chair of the society, Hayley Young, explains how her lifelong interest in Computer Science ultimately led her to SWiCS.
"I always enjoyed doing IT or computer related lessons in primary and secondary school and during one of our lessons in secondary school, we were introduced to coding," said Undergraduate Hayley, who's studying Artificial Intelligence and Computer Science with a Year in Industry.
"I remember it just clicked in my head, and I felt like it was something I not only enjoyed, but I was really good at.
"When I was studying for my GCSE and A-Level in Computer Science, there were very few women in the classes, which made it quite difficult to make friends. So, when I arrived in Sheffield, I was really impressed with the number of women studying Computer Science and saw the society as an opportunity to meet others who've had similar experiences.
"For me, the social element is the most important part of SWiCS. We've been on picnics, bar crawls and pub quizzes and it's always been great fun as well as giving me the opportunity to make friends. The career and learning side is also a fundamental part of what we do -  but the fact that you can meet so many like-minded people through SWiCS is what brought me to the society."
To anyone who is considering joining SWiCS, Hayley has the following message:
"I'd say it's really worth your time. We run so many events, have a growing community of people who will support you with your career, and you can make a lot of friends through the society. 
"Plus, as our membership is free, it's worth signing up just in case we do something you're interested in. We're always looking for ideas for events as well, so you'd be very welcome to join and make suggestions."
Over the coming year, SWiCS will be running Python workshops with the Women in Engineering Society, pub quizzes, the new Coding with Cake 'give it a go' session and much more. Hayley also teased that SWiCS have something 'super-exciting' planned for the end of the year, so it would be wise to follow the society's socials so you don't miss out!
---
For all the latest from SWiCS, as well as contact details for prospective members and collaborators, visit their Linktree.
Explore the University
Discover why Sheffield is the right choice for you at one of our open days or events.