In Memoriam: Professor Yorick Wilks (1939 - 2023)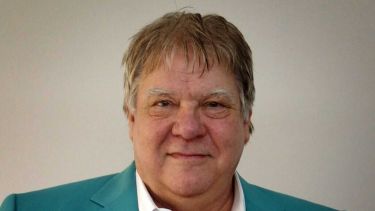 Former Head of Department in Computer Science and founder of the NLP Research Group, Yorick remained Professor Emeritus here at Sheffield until his death.
No one who has met Yorick will ever forget him. Often described as a "larger than life character", his restless, maverick intellectual energy, sparkling wit and passion for life made even a few minutes in his company an unforgettable experience. Whether discussing Plato's metaphysics, the latest episode of the Sopranos, Rilke's poetry, connectionist vs symbolic NLP, or the best hotel to stay at in Budapest, Yorick had a view on everything; and his view was bound to be fresh, often provocative. 
Born in 1939 of working class parents from Edmonton, North London, just after the start of World War II, Yorick was evacuated to Torquay during the Blitz. Resettling there with his mother in the early 1950s following the untimely death of his father, Yorick attended Torquay Boys Grammar School, whence he obtained a scholarship to study at Pembroke College, Cambridge. He had gone up to Cambridge to study mathematics, but in his first year he discovered that what was exceptional maths ability at Torquay was merely average in Cambridge. He therefore swapped to Philosophy, where  his tutor was Margaret Masterman, a student of Ludwig Wittgenstein, who introduced him to Wittgenstein's late philosophy of language.
Masterman ran a small private research lab called the Cambridge Language Research Unit (CLRU) to undertake work on machine translation and computational linguistics, mainly funded from military and intelligence sources, including from the US. Immediately after completing his undergraduate studies in 1962 Wilks was engaged by Masterman to work on one of these projects, and in parallel enrol for a PhD with the university. Thus began Yorick's involvement in computational linguistics, which was to continue until his death. 
Yorick's career in computational linguistics spanned seven decades. From his first publications at the CRLU in the early 1960's to his forthcoming book on AI and Religion, Yorick has thought and written on a huge range of topics central to NLP, significantly contributing to shaping this new discipline as it formed. These include: the semantic analysis of texts by computer, machine translation, meaning representation, lexicons and word sense disambiguation, ontologies and the semantic web, information extraction and information retrieval, architectures for natural language engineering, dialogue and conversation, artificial companions and AI and its relationship to ethics and religion. His Google Scholar page has over 700 entries, including 15 books and his list of co-authors reads like a who's who of early NLP: Karen Spärck Jones, Roger Schank, Eugene Charniak, Wendy Lehnert, Jaime Carbonell, James Pustejovsky, Sergei Nirenburg, to name just a few.
Yorick was not only intellectually restless, he was physically restless too, moving from Cambridge to California, including Stanford,  in the mid-1960's while still engaged in his PhD research, then back to Europe in 1974 for stints as a Senior Research Fellow in Switzerland and then at Edinburgh University in 1975,  before accepting a Readership in Linguistics at the University of Essex in 1976. He became a professor, then head of department there in 1978 and 1980, respectively, and moving to Computer Science in 1984, after a year at Monash University, Australia, in 1983 as visiting professor. In 1985 Yorick moved again, this time to become the head of the newly created Computing Research Laboratory at New Mexico State University in Las Cruces. Over the following years he built this into a thriving centre for research in AI and cognitive science, employing over 50 researchers, with specific areas of research including natural language understanding, connectionism, knowledge representation and reasoning, computer vision and robotics. 
Returning to the UK in 1993, he joined the University of Sheffield as a professor of Artificial Intelligence and founded the Natural Language Processing Group, hiring Rob Gaizauskas and Mark Hepple, both still active members of the Department,  within months of joining. Over the following 15 years he worked to build the group into one of the leading NLP groups in Europe and indeed in the world, a position it still holds today. Under his leadership the group attracted millions of pounds of research grant money from the UK Research Councils, the European Commission and industrial sponsors. It grew to well over 50 academic staff, post-doctoral researchers, PhD students and technical and administrative support, becoming one of the most successful research groups in the University. 
In 1998 Yorick became Head of Department and under his leadership the whole Department underwent a gear change, moving from being a largely teaching-focussed organisation with a relatively undistinguished research reputation to a Department whose research profile was very much on the rise. Nothing breeds success like success: the Department has never looked back, going from strength to strength to become one of the top Computer Science Departments in the UK. 
Following his time as Head of Department, Yorick spent a sabbatical year at the Oxford Internet Institute and shortly afterwards moved to Oxford with a view to retiring there. Passing the role of head of group on to Rob Gaizauskas in 2008, Yorick gradually wound down his active involvement with Sheffield, retiring completely by 2010 but remaining a Professor Emeritus there until his death. 
For Yorick, retirement did not mean pottering in the garden. He extended his affiliation with the Oxford Internet Institute while also accepting an appointment as Senior Scientist at the Florida Institute for Human and Machine Cognition, juggling his time between Oxford and Ocala, Florida over the coming decade. Both of these positions he held until his death.  In 2019-20 he became a Visiting Professor of Artificial Intelligence at Gresham College in London, delivering a series of lectures on broader topics in Artificial Intelligence. 
Yorick's list of professional awards and honours, far too long to enumerate, includes: the British Computer Society's Lovelace Medal, the Zampolli Prize and the Association of Computational Lingusitic's Lifetime Achievement Award, as well as being elected fellow of the ACM, BCS, AAAI and EAAI. 
Not only was he prolific as a researcher and author, Yorick was an inspirational teacher and mentor, supervising scores of PhD students, helping many more, and assisting many young researchers to gain a foothold in the academic world. One of his PhD students, Kalina Bontcheva, is now a Professor here in Computer Science and current head of the NLP Research Group, with a global research reputation of her own. Yorick had a remarkable ability to make others believe in themselves and in so doing to help them achieve things they would otherwise have found impossible. 
In closing, a story. In the late 1990s, the UK EPSRC held a national meeting of speech and language researchers in London to discuss the future funding and direction of Speech and Language research in the UK. Well over 100 researchers attended.  Yorick was on holiday at the time – boating on a canal in the Midlands. He intended to come to London for the day to attend the meeting, however, his barge broke down, he couldn't get to a train station and consequently did not make it to the meeting. At the end of a day of intense discussion and debate, the EPSRC Programme Manager and organiser of the meeting asked where Yorick was. On being told the tale of the broken-down barge, he responded: "Pity. This would have been an entirely different meeting if Yorick had been here". 
That is the sort of person Yorick was – his passion and piercing intellect could single-handedly transform a meeting of more than 100 academics into something more exciting, more challenging, more significant, more fun. All our meetings will be the poorer without him, our visits to the Red Deer less memorable. 
Yorick is survived by his wife Roberta Catizone, also a well known Computational Linguist,  son Seth, daughters Claire, Octavia and Zoe, and two grandchildren. 
He was a man, take him for all in all,

I shall not look upon his like again."

Hamlet

Wm. Shakespeare
Stay connected with your University
Experience all the benefits and services that come from being a Sheffield graduate.