Sheffield Women in Computer Science Society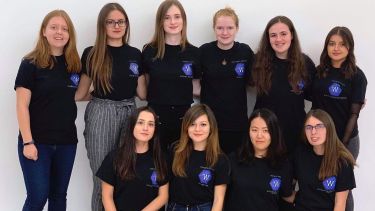 The Sheffield Women in Computer Science society (SWiCS) launched in September 2019 with the aim to create a community within the department. The idea began when a group of friends met up to watch a film and started discussing what it's like to be a woman within Computer Science. From there they decided they wanted to get more people together and founded the society.
They started the year with a launch event in Intro Week, helping to welcome first-year students to the Department and the society. Since then, they have hosted several social events (one which included members taking part in a quiz and a cup stacking competition before heading to the pub!) and run a range of talks from industry professionals.
The committee is also involved with outreach work. Some of the members have visited a local school and they are planning to organise more visits in the hope of encouraging young girls into STEM subjects.
---
If you are interested in working with the society then the best way to get in touch is to go to their Facebook page
You can discover more about the society and what they get up do on their blog