Students test their practical skills with award-winning games developer, Sumo Digital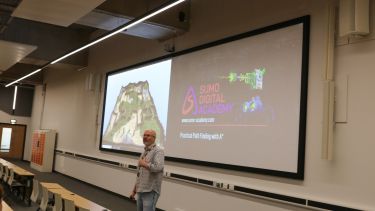 International games developer Sumo Digital gave students the opportunity to put theory into practice with a 'takeover' of the Machines and Intelligence module.
Members of the team from Sumo's award-winning Sheffield-based studio tasked first year undergraduate students with applying their artificial intelligence (AI) knowledge to a specific problem in a professional game - but using an unfamiliar programming language, C++.
With Sumo's Director of Education Partnerships and Visiting Professor Jake Habgood and a team of apprentices from the Sumo Digital Academy on hand for expert advice, the students had a great time applying their AI algorithms learning in a manner commonplace in the games industry.
The group of students were among the first ever to use Sumo Academy's AI teaching framework, which includes environments from the hugely successful Snake Pass game. The package, which is part of a wider educational resource for students to practise AI in game development, is expected to be made freely available to students and educators in 2024.
Professor Heidi Christenen, who is the Deputy Head of the Department of Computer Science and also teaches AI to the first years, said: "We'd like to say a huge thank you to Jake and his brilliant team of apprentices for once again sharing their time and knowledge with our students.
"It was fantastic to see students applying their learning from the module to a real-world problem, and we were very impressed with how quickly they got to grips with it.
"As a Department we recognise the importance of maintaining strong links with industry and industrial practise so we're very fortunate to have a world-class games studio on our doorstep."
Department of Computer Science Visiting Professor Jake Habgood, who is also an Education Advisor to The Independent Game Developers Association, said: ""The Sumo Academy is trying to lower the entry barrier to C++ game development as it is a prerequisite skill for the vast majority of entry-level programming roles in large games studios. Making the language more accessible feeds into our goals of improving diversity and widening participation in programming careers within the games industry."
Sheffield BSc Artificial Intelligence and Computer Science graduate Abdullah Ahmed, who's now an apprentice at the Sumo Digital Academy, says his time in the Department helped shape the direction of his career.
"I've always had an interest in games development, but when I started my degree I was focused on computer science more generally," he said.
"It was doing my dissertation on augmented reality, and the support I received within the Department, that really led me into it.
"I would definitely recommend Sheffield to anyone thinking of studying computer science. It caters for so many different subject areas and it's a great all-round experience. And Sheffield itself is a very nice, nature-focused city. It's calm but lively and I really enjoy living here."
Now Abdullah is thoroughly enjoying his time at Sumo and is looking forward to an exciting career in the games industry.
"I'm really enjoying it at the Academy and it's giving me the opportunity to apply a lot of the software engineering, programming and coding knowledge I gained on my degree," he added.
"At the moment I really want to progress as a programmer in the games industry and Sumo is definitely the place to do that."