Why working with industry benefits everyone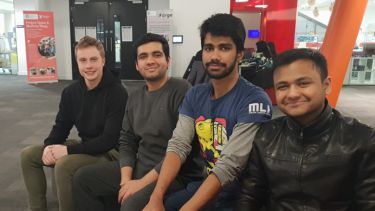 Providing students the ability to communicate with team mates and members of industry, working on complex problems, how to share out the workload and how to manage time effectively are all skills that can be applied to future learning or in the work place. We believe that giving our students the skills to succeed in the work place will help them thrive and excel in their chosen career paths.
Students on the MSc Data Analytics course are provided with the opportunity to engage with the 'real world' of work in an industry inspired research project. For the project teams of students work on a problem that has been suggested by members of industry. One such team has been working with gweek who are innovators in the area of NLP and provide bite-sized analysis and learning in communication skills.
James Bryce, CEO of gweek, is working with our students on a joint project which is designed to unearth more insights from the company, where a core design principle is to be evidence-based and research-driven.
---
Working with the team of students was a fascinating experience. They knew nothing about gweek when they started and, as I understand it, had little experience with speech technologies either. I'm so impressed with how they applied themselves. There is so much work to be done in the area of communication skills analysis. It's complex, multi-disciplinary and has received very little attention from research to date. I hope this initial project may continue into an ongoing partnership.

James Bryce

CEO gweek
---
The Industrial Team Project module provides students with the opportunity to experience the types of problems that data scientists work with in their daily work and apply the techniques taught on the MSc. We are very grateful to gweek, and all our other industrial partners who support projects, for providing the students with stimulating problems for them to work on and helping them to develop solutions

Dr Mark Stevenson

Course Director MSc Data Analytics
---
We asked the students who were working with gweek to summarise their experiences of the team project
"The industrial team project, at its core, is the door to the professional world. Having had 3.5 years of experience before doing my Master's, I could feel the same level of dedication and commitment in all of us to deliver the objectives set by gweek. We, as a group, have gone through some long nights just to juggle between this project and our assignments, but it was all worth it for me. Tight schedules, deadlines, brainstorming, coding, fixing buggy codes and reporting on the same have been quite a challenge. The fact that people at gweek being extremely helpful to provide us with everything we needed, speaks volumes about the organisation. When everything culminated to give us the desired results, spending what felt like an eternity in Diamond didn't feel like a task any more. It added to the memories; also, the experience that I have gained from this project will help me immensely in the future. But out of all this, I have had the chance to be in the team consisting of some amazing people at gweek and some of the brightest minds at the University of Sheffield who have worked tirelessly, throughout, to ensure that the objectives of the project were met, and it was a success."
Rahul Sengupta
---
"With long nights spent in Diamond (I call it my second home now) surviving with a cup of tea from the kettle while sitting on the pod on third floor, I can say that our team learned a lot about the real life industrial projects, team management, project management, and most importantly working with tight deadlines. The gweek team was very helpful in guiding us about the objectives and also our supervisor was helpful in guiding us on how to achieve the objectives. We as a group had to stay in the Diamond for hours sometimes a whole night to fix the code, to train the model etc but it was all worth it. It helped us to learn the skill of managing time. I learned a lot from this project and surely it will be helpful to me in future career. I am delighted that I had the chance to work with amazing people at gweek and I am happy to be in the team of consisting of bright and genius people."
Ibad Ur Rahman
---
"It's been a wonderful journey of 2 months working with gweek on the Industrial Team Project. It was like walking over old grass again like I use to do when was working with Wipro Technologies 1 year ago. With the 2.5 year experience, I was able to feel the same motivation and dedication in all of us in delivering the goal set by gweek. Honestly speaking it was not easy. There were a lot of challenges but in the end, we as a team worked it out. This project has not only to help us grow our level of knowledge but also has made us learn how to work as a team and resolve problems arising."
Abhijeet Thakur
---
"For me the project has been very valuable especially in terms of technical skills and coding, as I didn't know a lot about speech data and speech processing from before. Also, working in teams is usually challenging, with the planning and task assigning and everything that follows. However, Rahul, Ibad, Abijheet and I have worked well as a team before and I was never in doubt we would get through this even though we were the smallest of all the teams in our class. The time we have spent together when working on the project has been exciting, fun, but also stressful towards the final deadline of the report. Thanks to the gweek team and their eager to help us whenever needed, we made it through. It was very valuable for me to get some practical experience with industry, and I think it will be very helpful once I start working myself."
Martin Skauen