Professor Eleni Vasilaki
DPhil, CEng, MIET
Department of Computer Science
Chair of Computational Neuroscience & Neural Engineering
Director of Research
Head of the Machine Learning research group
Member of Complex Systems Modelling research group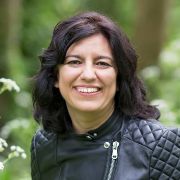 Profile

Eleni graduated with a Bachelor's degree in Informatics and Telecommunications and a Master's degree in Microelectronics from the University of Athens, before taking her DPhil (PhD) at Sussex, in Computer Science and Artificial Intelligence.

From 2004 to 2006 she worked at the University of Bern and from 2007 to 2009 at the Swiss Federal Institute of Technology Lausanne (EPFL). In 2009 she joined the University of Sheffield as Lecturer, where she is Professor since 2016.
Research interests

Computational Neuroscience, Artificial Intelligence:

Synaptic plasticity and Learning
Unsupervised Learning
Reinforcement Learning

Eleni develops computational models aiming to advance our understanding of the brain learning mechanisms. She targets to unveil the principles that govern the modifications of the neuronal connections when acquiring information, with emphasis to unsupervised and reinforcement learning.
Publications

Journal articles

Chapters

Conference proceedings papers

Software / Code
Grants

Current grants

CausalXRL: Causal eXplanations in Reinforcement Learning, EPSRC, 02/2021 - 01/2024, £309,915, as Co-PI
ActiveAI - active learning and selective attention for robust, transparent and efficient AI, EPSRC, 11/2019 - 10/2022, £953,584, as Co-PI
From Stochasticity to Functionality: Probabilistic Computation with Magnetic Nanowires, EPSRC, 04/2019 - 03/2022, £755,424, as Co-PI
Alexa Fellowship, Amazon, 08/2018 - 08/2021, £73,000, as Co-PI
Modeling probabilistic reinforcement learning and variable behaviour in the fruit fly Drosophila melanogaster, Google, 05/2018 - 12/2022, £50,769, as PI
Brains on Board: Neuromorphic Control of Flying Robots, EPSRC, 12/2016 - 12/2021, £2,128,934, as Co-PI
The cortical representation of low-probability stimuli and its neuromorphic implementation, The Wellcome Trust, 09/2016 - 04/2021, £246,222, as PI

Previous grants

From synaptic plasticity to cortical neuronal networks emergent behaviour, Royal Society, 06/2010 - 05/2012, £8,450, as PI
NAMASEN: Neuroelectronics and nanotechnology - towards a Multidisciplinary Approach for the Science and Engineering of Neuronal Networks, EC FP7, 10/2011 - 09/2015, £215,509, as PI
Green Brain: Computational Modelling of the Honeybee Brain, EPSRC, 03/2013 - 08/2016, £660,561, as Co-PI
Memristive Dynamics, EPSRC, 05/2012 - 02/2013, £17,271, as PI
Professional activities

One of the Academic editors of Scientific Reports, Nature Publishing Group, PLOS ONE and PeerJ.
Review editor / Reviewer for over 20 journals and conferences, including Nature Nanotechnology, and research funding bodies e.g. EPSRC (UK) and FWO (Belgium). Has served as EPSRC panel member and panel Chair.
Elected Director for the Organisation for Computational Neurosciences from Jan 2016 to Nov 2017.
Area Chair for key machine learning conference NIPS 2014.
More than 30 invited talks worldwide, including Oxford, Imperial, ETH Zurich/ Univ. Zurich, Columbia, and Beijing Institute of Technology.
Head of the Machine Learning research group
Member of the Complex Systems Modelling research group