Dr Mari-Cruz Villa-Uriol
PhD
Department of Computer Science
Lecturer
Director of UG Admissions
Member of the Complex Systems Modelling research group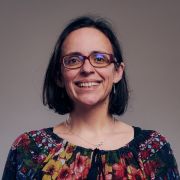 Profile

Dr Maria-Cruz Villa-Uriol is a lecturer in Computer Science and member of the Complex Systems Modelling research group at the University of Sheffield, UK. She is also member of the INSIGNEO institute for in silico Modelling.

She holds a degree in Telecommunications and Electronics Engineering (Barcelona, Spain), and a PhD in Computer Engineering (University of California, Irvine, USA).

Previously, she held a postdoctoral position (February 2006 - August 2012) at the Universitat Pompeu Fabra (Barcelona, Spain) and a Research Fellow position at the University of Sheffield (Department of Mechanical Engineering, September 2012 - January 2015).
Research interests

Her main research interests are the personalisation of models using computational imaging and modelling techniques, the composition of scientific workflows, and the use and development of data-driven decision-making strategies to support clinical decisions using heterogeneous data sources such as personalised VPH (Virtual Physiological Human) models, clinical databases, and mobile sensors capturing a wide variety of variables describing an individual and his/her environment.

Her primary area of interest is in the cardiovascular domain with an emphasis in clinical translation.
Publications

Journal articles

Chapters

Conference proceedings papers

Website content
Grants

Current Grants

OptiMUS-HF: Optimal target medication up-titration strategy in patients with heart failure with reduced ejection fraction, MRC, 01/2020 - 03/2021, £54,679, as Co-PI
SANO: Centre for New Methods in Computational Diagnostics and Personalised Therapy, EC H2020, 08/2019 - 07/2026, £2,497,386, as Co-PI
Clever-dREAMS: Using artificial intelligence to enhance the diagnosis of rare skeletal dysplasias in children, MRC, 12/2019 - 03/2021, £74,668, as Co-PI
PathAnalyse, Health Foundation,09/2019 - 03/2021, £143,903, as PI

Previous Grants

Early detection of Papilloedema and Diabetic Retinopathy, Innovate UK, 11/2018 - 02/2020, £58,611, as Co-PI
React to Red, Sheffield Teaching Hospitals, 01/2019 - 03/2019, £7,500, as PI
Professional activities

Member of IEEE professional society since 2000.
Organiser of AngioLab – Image assisted planning platform for the embolisation of cerebral aneurysms and AngioLab – A knowledge-based platform for patient-specific aneurysm management, treatment assessment and planning within the ESMINT (European Society of Minimally Invasive Neurological Therapy) 2nd and 3rd Teaching Courses respectively held on 13th-18th December 2009, and 5th-10th December 2010, Barcelona, Spain. Both events had an attendance of 23 and 28 neuroradiologists.
Reviewer of journals such as IEEE Transactions of Medical Imaging, JAMIA, Annals of Biomedical Engineering, and Journal of Biomedical and Health Informatics, and of conferences such as MICCAI.
Member of the EIBIR IMAGINE committee for the European Congress of Radiology (ECR) 2013 organised by the European Society of Radiology (ESR).
Invited talk in the Interdisciplinary Cerebrovascular Symposium (ICS) 2014.
Balsells-Generalitat de Catalunya fellowship 2000.
Member of the Organisations, Information and Knowledge research group