Professor Phil McMinn
PhD
Department of Computer Science
Professor of Software Engineering
IBM Liaison
Member of the Testing research group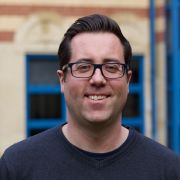 Profile

Phil McMinn has been a Lecturer in the Computer Science department at Sheffield since 2006. He was awarded his PhD in 2005, which was funded by DaimlerChrysler Research and Technology. He has published several papers in the field of search-based testing.

His research interests cover software engineering, with a particular focus on software testing, program transformation and agent-based systems and modelling. His research has been funded by the UK Engineering and Physical Science Research Council (EPSRC) to work on reducing oracles costs of testing, testing techniques for agent-based systems and the automatic reverse engineering of state machine descriptions from software.
Research interests

Search-based software engineering, software testing, program transformation, agent-based systems.
Publications

Journal articles

Chapters

Conference proceedings papers
Grants

Current grants

RE-PRESENT: Automatic Repair of Presentation Failures in Web Applications, EPSRC, 04/2020 - 11/2023, £34,717, as PI
Flake-It: Search-Based Inducement and Repair of Latent Test Flakiness, Industrial, 01/2020 - 09/2023, £40,000, as PI

Previous grants

Insitute of Coding, HEFCE, 11/2017 - 03/2020, £957,000, as PI
GReaTest: Growing Readable Software Tests, EPSRC, 03/2016 - 10/2018, £516,859, as Co-PI
Reverse Engineering State Machine Hierarchies by Grammar Inference (REGI), EPSRC, 04/2009 - 09/2012, £315,209, as Co-PI
Automated Discovery of Emergent Misbehaviour, EPSRC, 08/2009 - 07/2012, £241,737, as PI
RE-COST: Reducing the Cost of Oracles for Software Testing, EPSRC, 01/2011 - 01/2014, £302,580, as PI
Professional activities

Member of the Testing research group
SBST 2014 Chair
ICSE 2014 Review Committee member
ICSE 2013 Program Committee member
ISSTA 2012 Program Committee member
SSBSE 2011 General Chair
Best paper winner at SSBSE 2010