Professor Richard Clayton
PhD
Department of Computer Science
Professor of Computational Physiology
Deputy Head of Department
Member of the Complex Systems Modelling research group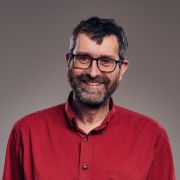 Profile

Richard Clayton has a first degree in Applied Physics and Electronics from the University of Durham, and a PhD in Medical Physics from the University in Newcastle upon Tyne. After completing his PhD, Richard continued research at the Freeman Hospital in Newcastle upon Tyne, funded by British Heart Foundation junior and intermediate fellowships.

The main focus of these projects was on understanding the electrical mechanisms that underlie life-threatening disorders of heart rhythm, based on the analysis of data recorded from patients. A move to the University of Leeds, funded by a British Heart Foundation Lectureship enabled Richard to work on developing mechanistic models of cardiac electrophysiology in the human heart.

Richard Clayton was appointed Senior Lecturer in the Department of Computer Science in Sheffield in 2003, promoted to Reader in Computer Science in 2008, and Professor of Computational Physiology in 2014. He is a core member of the INSIGNEO institute for in-silico Medicine, and serves on the INSIGNEO board.
Research interests

Richard Clayton's research interests are focussed on developing physics-based and mechanistic computational models and simulations as tools to examine the structure and function of human tissues and organs. This theme aligns with the recently established INSIGNEO institute for in-silico medicine in Sheffield.

Richard Clayton has had a long running interest in developing computational models to investigate the mechanisms that initiate and sustain dangerous disorders of heart rhythm in the human heart, and this has been funded through grants and fellowships from the British Heart Foundation.

Recent funding from EPSRC will develop techniques to handle the quantification and propagation of uncertainty within multiscale models of physiology.
Publications

Journal articles

Chapters

Conference proceedings papers

Reports

Working papers

Datasets
Grants

Current grants

In-Procedure Personalized Atrial Digital Twin to Predict Outcome of Atrial Fibrillation Ablation, EPSRC, 04/2022 - 03/2026, £314,026, as PI
The SofTMech Statistical Emulation and Translation Hub, EPSRC, 03/2021 - 02/2025, £207,617, as PI
SANO: Centre for New Methods in Computational Diagnostics and Personalised Therapy, EC H2020, 08/2019 - 07/2026, £2,497,386, as Co-PI
PRIMAGE: PRedictive In-silico Multiscale Analytics to support cancer personalized diaGnosis and prognosis, Empowered by imaging biomarkers, EC H2020, 12/2018 to 11/2022, £549,018, as Co-PI
Neurocardiac Interaction In Malignant Ventricular Arrhythmias And Sudden Cardiac Death, British Heart Foundation, 7/2017 to 03/2023, £128,604, as PI

Previous grants

Uncertainty Quantification in Prospective and Predictive Patient Specific Cardiac Models, EPSRC, 05/17 to 04/22, £460,590, as PI
EurValve: Personalised Decision Support for Heart Valve Disease, EC H2020, 02/2016 to 01/2019, £401,801, as Co-PI
QUINTET: Forecasting personal health in an uncertain environment, EPSRC, 04/2013 to 09/2017, £665,262, as PI
POEMS: Predictive Modelling for Healthcare through Maths, EPSRC, 04/2013 to 03/2017, £218,232, as PI
Development of a novel diagnostic model of urinary dysfunction, Sheffield Hospitals Charitable Trust, 03/2014 to 08/2014, £15,715, as Co-PI
Determination of thresholds for the development of ventricular arrhythmias using computer modelling, Sheffield Hospitals Charitable Trust, 03/2010 to 12/2014, £48,370, as Co-PI
Advanced Machine Learning Methodology for New Classes of Prediction Problems, EPSRC, 03/2008 to 03/2010, £85,491, as Co-PI
Initiation of re-entry and fibrillation in the ventricle: A mechanistic investigation using computational models, British Heart Foundation, 07/2004 to 06/2007, £97,443, as PI
Professional activities