Are you interested in studying for a PhD in Computer Science at one of the UK's leading universities? We have a reputation for high research standards and publish much of our work in the most prestigious international journals and leading conferences.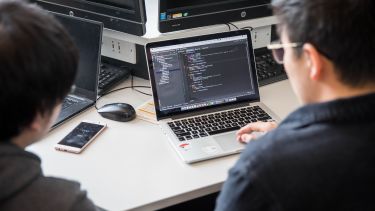 Off
Why Sheffield?
Many of our academics are leaders in their field. This has been acknowledged by the 2014 Research Excellence Framework in which 92% of our research work was rated either world leading (4*) or internationally excellent (3*) in terms of its originality, significance and rigour. We are a Top 5 Computer Science department in the UK. Our research is innovative, interdisciplinary and at the interfaces with the life sciences, engineering, mathematics or linguistics.
Our department is truly international with academics, researchers and students from all over the world and a thriving research environment with more than 80 full-time and more than 20 part-time PhD students, most of them working in the software industry. Our Alumni have pursued academic and industrial careers around the globe. Our department is part of a top UK University; it is situated in one of the greenest cities of Europe at the border of the beautiful Peak District National Park.
---
Current opportunities
We are looking for highly motivated applicants with a very good degree in Computer Science or another relevant subject in Science or Engineering. Most of our PhD students start in September or October. We offer an excellent international and interdisciplinary research environment and a dedicated PhD Programme that includes training, mentoring and a wide range of scientific and social activities.
Current opportunities in the Department
---
Apply online
Read the How to apply - PhD study guide
You can apply for postgraduate research using our postgraduate online application form:
Postgraduate Online Application Form
The form has comprehensive instructions for you to follow, and pop-up help is available on each page. 
Please make sure to name supervisor(s) and the title of the project you are interested in. For all applications, we require two academic references, degree certificate and transcript, CV and a statement about why you would be suitable for the PhD studentship.
---
PhD with Integrated Studies
The standard UK PhD programme is based on 3 years research, but we also offer a PhD with Integrated Studies, which is a 4 year programme involving a taught element.
About the PhD with Integrated Studies

What is the PhD with Integrated Studies?

Essentially this option combines a one-year specialised taught MSc programme with a three-year individual research PhD. We recommend this option for applicants who are specifically seeking a four-year programme and/or those wishing to enhance their specialist knowledge and skills before commencing their research.

Entry qualifications

A good undergraduate Honours degree (2:1 or better) in a relevant science, or engineering subject, evidence of a potential to carry out research study successfully, and an approved English Language Qualification.

Programme assessment

All of the taught modules will be assessed by coursework and/or formal examination. Assessment of the MSc and doctoral theses will be by written report and oral examination.

It should be noted that transfer from the MSc onto the MPhil/PhD will normally require distinction-level performance on the MSc. Similarly, students on this programme will be expected to follow the normal departmental procedures for PhD Confirmation at the end of the second year.

Advanced Computer Science at Sheffield

Many of the grand challenges facing us in the 21st century demand a deep understanding of large scale complex systems (systems biology, finance, climate, etc). In many of these domains computational modelling techniques are starting to provide useful insight. Students entering the advanced computer science PhD with integrated studies programme will be introduced to state-of-the art modelling and simulation techniques, both from a software engineering and machine learning perspective. Directed by their own interests, and in accordance with their undergraduate experience, students will then have an opportunity to specialise in one of the areas in which the department has expertise, including speech and language processing, cognition and robotics, and systems biology.
Research training programme
All Sheffield research students take part in a training programme where the university provides you with the skills, competencies and wider subject based training necessary to complete your research. The University of Sheffield was one of the first UK Higher Education Institutions to create a Research Training Programme (RTP) over 16 years ago.
Find a PhD
Search for PhD opportunities at Sheffield and be part of our world-leading research.