'It's possible to create something really special' - student celebrates dissertation prize win
Computer Science With Speech and Language Processing MSc
Graduate Emily Ip was in 'complete disbelief' when she was told she'd won the Department's Fretwell-Downing prize for her dissertation on using language cues to detect signs of cognitive decline.
Coming from a social sciences background, Emily's one-year MSc in Computer Science with Speech and Language Processing completely changed the direction of her career.
We caught up with Emily to discuss her time in Sheffield and why it's a fantastic time for women and other under-represented groups to get into computer science.
Why did you choose to study computer science at Sheffield?
I chose to study computer science at Sheffield because of their Computer Science with Speech and Language Processing MSc course, the curriculum and the Natural Language Processing (NLP) research group was everything I was looking for. There's a great balance across the modules and it's a really robust research group. It was such a great compliment, especially when it came to the dissertation project. 
What were the best things about studying in the Department?
The best thing about studying in the department was the amount of support from all sides in terms of the staff as well as the students. We all got personal tutors and then we all got our own supervisors for the dissertation. 
And there's also the student life here in Sheffield. We have the number one Students' Union in the UK. So that was a great way to explore outside of the classroom. But also there's a Centre for Doctoral Training (CDT), which puts you in touch with the students who are really looking at cutting-edge research. So it was really cool to get a glimpse of what was possible and also just be guided along the way and understand.
How did you feel when you won the Fretwell-Downing prize?
I was in complete disbelief! I came from a more humanities and social sciences background and there was a part of me that didn't believe that I could, within one year, make the jump into STEM and computer science, and do a research project that was so well recognised by my peers in the department and staff. It was super validating. I think whatever background you come from, so long as you're interested and you're passionate and excited about what can be done with computer science, it's possible to create something really, really special.
What next?
I now doing a Ph.D. at Trinity College, Dublin, and that's where I'll be for the next four years. It's also in computer science so I'm in it for the long run and I'm very excited to see where it takes me.
What advice would you give to a woman considering studying computer science?
Computer science is for anyone! I think we're in a really, really great place in time. Here in Sheffield there are societies and organisations within the Department, specifically for women in computer science. There are people there to share their ideas and make you feel included. Maybe whereas in the past there wasn't that sort of space. So now is the time - and I would say just go for it.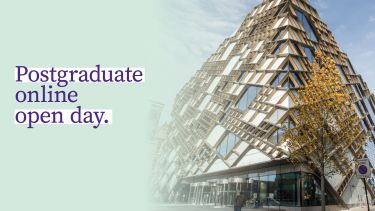 Postgraduate online open day
Book your place at our online open day on Wednesday 26 April to find out more about postgraduate taught study at the University of Sheffield.