Our Dutch Studies community consists of undergraduate and postgraduate students, Language Coaches, Taalunie Teaching Assistant and our academic staff.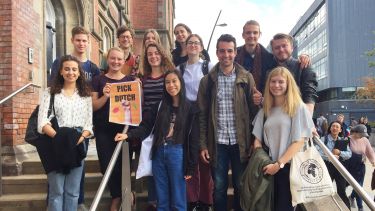 Get to know our Dutch Studies academic staff and find out how you can get in touch with them. If you are an Erasmus student from the Netherlands or Flanders, check out our Language Coaches opportunities and get in touch.
What's your name?
Filip De Ceuster, but you can call me Filip or Fip.

What's your role within Dutch Studies at Sheffield?
I teach Low Countries History and Culture, and Dutch Language across all levels. I am specialised in Interwar Literature, but I also teach a module on ecocriticism in contemporary Dutch and Flemish children's literature.

Favourite spot in Sheffield?
Definitely my colleague Yeti's lovely garden, where at the end of the academic year all students of Dutch gather for the Gezellige Nederlandse Zomerborrel! Bunting, bubbles, bites and bulbs! 

Favourite spot in the Low Countries?
That's a difficult one...
Outside: the quays of the river Scheldt (Schelde) in the city of Antwerp. Watching the ships and seagulls on long summer evenings, cracked cobbles with dandelions… It was one of my favourite reading spots when I was a student.
Inside: the magnificent Printing Museum of Plantin-Moretus (also in Antwerp), which has a unique book collection and the oldest printing presses in the world!

Favourite word or expression in Dutch?
So many! But here's a good one: "Als de vos de passie preekt, boer, let op uw kippen!". Literally: if the fox preaches the passion, farmer, watch your chickens! 

A tip for incoming SLC students?
Get out of your comfort zone, try new things and keep a journal. (I do realise that that is more than one tip.) And take up Dutch! (that's four now). 

What's your name?
Henriette Louwerse. In Dutch, Henriette is shortened to Jet, which you pronounce as /yet/. That is why I am also called Yeti (Jettie in Dutch)

What's your role within Dutch Studies at Sheffield?
I am the Director of Studies and I teach Dutch for Beginners and one semester of our Dutch Advanced course. I also offer a course on (post)colonial history and society and on the representation and ideology of the family in Dutch and Flemish literature and film. And finally I am interested in translation. 

Favourite spot in Sheffield?
I have many favourite spots, I like Tamper Coffee because it serves such a mean flat white. I like Weston Park because it is so green and timeless, but my top spot is the Western Bank Library. Go in, smell the books and you'll  feel learned! Or at least inspired to read and study. And the staff are very helpful. 

Favourite spot in the Low Countries?
I will go for anywhere in Friesland; I love the northern provinces a lot but it is where I grew up. I am also very fond of the beaches in Zeeland. And Groningen is my favourite city.

Favourite word or expression in Dutch?
I love the 'oe' sound in Dutch which is close to English 'oo' but a little bit shorter. The word smoesje is one of my favourite words because it is sweet and short and (quite) harmless and it means excuse, little white lie. 

A tip for incoming SLC students?
Give as much as you take; engage from the start; and if you are unsure about something, just get in touch. We are here for you.
Nynke de Haan

What's your name?
Nynke de Haan. Nynke is a Frisian name. Friesland is a province in the North of the Netherlands, which is also where I am from! 

What's your role within Dutch Studies at Sheffield?
I am really excited to be a Language Coach for the Intermediate and Beginners levels, but I am still a student as well! I'm doing a Master's Degree in Dutch Studies at the University of Groningen. I'm currently doing an internship at the IVN, that's the Internationale Vereniging voor Neerlandistiek.

Favourite spot in Sheffield?
Because of the pandemic, I was not able to travel to Sheffield, but I am curious to hear your stories about it! 

Favourite spot in the Low Countries?
I love the nature around the lakes of Friesland. Every season seems to bring new life and colour to the landscape. 

Favourite word or expression in Dutch?
My granddad always used to say 'wrijving brengt glans', which means something like 'friction can make things shine'. When something (with someone) does not immediately work out, this does not have to mean that things can't get better. Over time, friction can even make things 'shine'. 

A tip for incoming SLC students?
People generally really like it when you (try to) speak their language. Try not to be afraid! I know that is easier said than done. Even I feel a bit hesitant writing this text in English! I hope there are no mistakes? 

Elliot Ridsdale

What's your name?
Elliot - two l's and one t

What's your role within Dutch Studies at Sheffield?
I'm President of the Nederlandse Vereniging (Dutch Society). We're an extremely friendly, gezellige group created and run entirely by students, and aim to promote the Dutch-speaking world within Sheffield. We put on a wide range of social events including cultural events and celebrations, pub/club and karaoke nights and everything in between, with a trip to the Netherlands also on the horizon! We also aim to support the academic side of things, so anything Dutch related, you'll find it here.

https://www.facebook.com/nederlandseverenigingsheffield/

Favourite spot in Sheffield?
My favourite spot has to be Weston Park. It's relaxing to look at it from Western Bank Library whilst doing work, or perfect for a picnic in your lunch break.

Favourite spot in the Low Countries?
I've never been! I'll keep my eyes peeled on my year abroad.

Favourite word or expression in Dutch?
I don't know how much of an expression this really is, but lekker weertje buiten, of niet? always works a treat in Sheffield. Of course, it means lovely weather outside, right? ;)

A tip for incoming SLC students?
Always have confidence and courage. Don't be afraid to ask for help, to try a new activity, to try a new language, to talk to a new person, to go to an event where you don't know anyone, and to put yourself out there. University is an amazing chance to try doing new things, but try not to let anxieties hold you back. Soon you'll be feeling confident in situations you would once have never done, but it's practice that makes perfect.
Louise Snape

What's your name?
Louise Snape. That's right yes, Snape. Never read the books and I was alive before he was even conceived of. My brother is a professor though, which is quite funny.

What's your role within Dutch Studies at Sheffield?
I teach on the Dutch for Beginners course, and I also do conversation classes for the Advanced Dutch Course. I also studied German with Dutch at Sheffield, so I know the place pretty well.

Favourite spot in Sheffield?
I love a place called Pye Bank, which is on the other side of Kelham Island - about 40 minutes walking from the University. Up there, you'll find by far and away the best view of the city. You should go there! I remember making a time lapse of the sunrise there, which was used as part of a Dutch culture module in my second year. When I was sat watching the sun come up, I distinctly remember thinking how amazing my whole experience of life was at university. I didn't know anyone who studied on a more vibrant and diverse course than Dutch at Sheffield. So many exciting, surprising and relevant opportunities came from studying Dutch.

Favourite spot in the Low Countries?
It's got to be Rotjeknor (the endearing name for Rotterdam). I'm from Birmingham originally, so I think I have a natural soft spot for second cities.

Favourite word or expression in Dutch?
This is a virtually impossible question to answer, but I like the words: eclatant. I apologise… it comes from the French originally! I love the use of eclatant to describe success. It means bright and eye catching, so I can't really imagine a more celebratory way to describe something as having gone well!

Also, it makes me feel posh when I say it, and it can be use excellently in an ironic way! 

A tip for incoming SLC students?
Work hard, but don't obsess over work. Ask questions when you're struggling and trust the process! Discover Sheffield and the Peak District too, there's more to the city than just the University.

Jordi Britton

What's your name?
Jordi Britton – pronounced as /yordi/, the Dutch way!

What's your role within Dutch Studies at Sheffield?
First and foremost, I'm a student – so if you ever need any help or advice, let me know! I'm also a Taalunie teaching assistant for the Dutch conversation sessions, which are the casual, more off-the-cuff classes where you get the chance to practise your speaking and learn more about youth culture in the Low Countries too. I lead the beginners' sessions alongside native speakers, and together we get to see how students go from saying their first 'hallo!' to being able to buy clothes, talk about films and get their bike repaired (of course!)

Favourite spot in Sheffield?
The top of Blake Street! England's third-steepest street even has a handrail to help you. But once you scale what is the steepest road in the North, you are treated to an incomparable view of the whole city. And once you reach the peak, you can get your breath back in Ruskin Park or in the conveniently-located pub (which also features in the Sheffield classic, The Full Monty).

Favourite spot in the Low Countries?
For me, it has to be Hook of Holland! Beautiful wind-swept dunes and beaches, container ships leaving Europe's largest port (Rotterdam), woodland and delicious freshly-caught kibbeling. Not to mention, it has a ferry link to the UK and – to me – feels like a spiritual vantage point looking out towards England.

Favourite word or expression in Dutch?
I have a whole list of words and idioms that I started on my Year Abroad, so choosing just one is difficult! But I think one great expression is 'het komt als mosterd na de maaltijd'. It means something is too little, too late, but literally it means that it's like getting the mustard after the meal!

A tip for incoming SLC students?
University is about more than just the academic experience. So, take time to discover Sheffield, make new friends in student societies (especially the Nederlandse Vereniging!) and enjoy culture just as much as the language.
Roel Vismans

Professor Roel Vismans comes from Rotterdam, the Netherlands´ second city. After studying English at the Free University Amsterdam and Linguistics at the University of Manchester, he returned to the Free University Amsterdam in 1994 to obtain my doctorate in Dutch linguistics, with a dissertation on Dutch modal particles.

He says
"My career as a teacher of Dutch started when I was an MA student at the University of Manchester. Between 1981 and 2003 I taught Dutch at the University of Hull, where I also spent three years as director of the university´s language centre. I joined the Department of Germanic Studies in Sheffield in September 2003 as Senior Lecturer in Dutch. Between 2007 and 2011 I was Head of Germanic Studies. I was promoted to Reader in January 2011 and to Professor in January 2018. I retired in September 2019, but am still working on several projects."

Anna Geurts

Dr Anna Geurts is Honorary Research Fellow in Dutch Studies. She currently works for the Radboud Universiteit Nijmegen but she will soon be one of our guest speakers for our Centre for Dutch and Flemish Studies.
Gemma Blacker

What's your name?
Gemma Blacker - Gemma works just fine or you can call me Gem, I don't mind!

What's your role within Dutch Studies at Sheffield?
I'm in my third year at Sheffield and I have recently become a Practical Language Assistant for Beginners' Dutch. Having been in the beginners' shoes only a couple of years ago myself, I'm really keen to encourage you to be confident and enjoy your experience of learning Dutch! I can't wait to see your progress! :)

Favourite spot in Sheffield?
It has to be the Botanical Gardens! It's the best place to go if you want to step out of the city and into somewhere more tranquil! There you will find some of the most idyllic, peaceful spots to sit and read, all whilst being surrounded by beautiful plants and flowers. Bolehills also deserves a mention! It's slightly further out of the city and up a hill (the clue is in the name!), but you're immediately greeted with rather impressive views when you arrive, especially when the sun is setting or early in the morning. 

Favourite spot in the Low Countries?
My only experience in the Low Countries is when I visited Utrecht with my school, long before I had even considered studying Dutch, so it's my favourite place by default! I love that you can sit level with the Oudegracht canal watching the boats pass whilst having lunch in a quaint cafe or restaurant. I hope to discover more hidden gems in the Low Countries for myself in the near future! 

Favourite word or expression in Dutch?
I love the word knuffel, meaning hug. It somehow perfectly embodies everything that a hug is! Add a diminutive to the end and it just gets even better, knuffeltje - a little hug. I wish the English language had diminutives! 

A tip for incoming SLC students?
You really do get out what you put in so be open-minded, do things outside of your comfort zone and don't be afraid! You're surrounded by great people in SLC so ask questions, ask for help when you need it and follow your interests! Lastly, don't stress - everything will fall into place eventually! 

Cyd Sturgess

Dr Cyd Sturgess did both her BA, her MA and her PhD in German and Dutch Studies. She was taught several courses with us and she won a prize for being the best Postgraduate Tutor when she taught our final year culture course. Currently she teaches German but she is always ready to step in! Cyd talks about how she tackles teaching literature in a way you have never done it before. 
---
Follow us on social media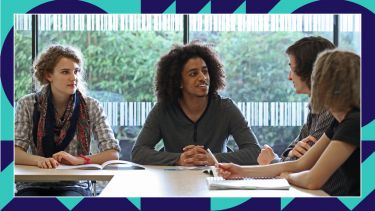 Open days
Find a home for your ambition. A Russell Group University. Discover what's possible at our next undergraduate open day.