Dutch for non-specialists and visiting students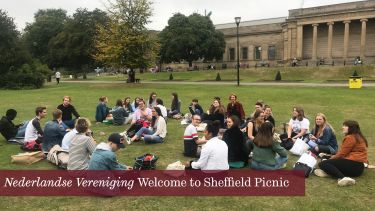 "My name is Adriane Helios and I'm currently in the final year of my undergrad in English Studies and Musicology at the University of Cologne in Germany. This past autumn semester I was lucky enough to be an Erasmus student at the University of Sheffield where I joined the Dutch Society and participated in a Dutch language module in addition to my regular English modules.
I knew about the Dutch Society or NV (Nederlandse Vereniging) long before coming to Sheffield when I browsed the SU website for societies I might want to join during my semester abroad. I've always loved Dutch and had just completed an A2 level course in Cologne, so meeting up with people regularly to have a chat in Dutch in a relaxed setting seemed like a fantastic opportunity. That's how I ended up in Weston Park at a getting-to-know-each-other picnic with NV. Here, Yeti (Henriette), one of the teachers, suggested I continue studying Dutch in Sheffield, a thought that hadn't even crossed my mind before that. But oh was I grateful for that nudge: after a few admin hurdles, I was able to drop one of my English modules in favour of Dutch. I did a short placement test with Filip, the other teacher, to determine my language level and was sorted into the Intermediate class. This meant two hours of practical language and grammar every Wednesday morning and one hour of conversation class every Thursday.
Overall, Dutch ended up being my favourite module of the semester and I would highly recommend it to anyone coming to Sheffield and interested in learning the language.

Adriane Helios

Visiting Erasmus student 
I found the combination of formal teaching and conversation worked really well for me: So far, I'd mostly done courses that hadn't prioritised speaking and had instead focused on grammar and writing tasks which is why the conversation class was such a great addition to the learning process in my opinion. It turns out that speaking freely without the support of a textbook isn't quite so daunting when you practice it regularly. I was lucky to be living with two native speakers of Dutch on top of that, so I got to practice my speaking skills at home every once in a while as well. In the module, we were also given the opportunity to take part in a translation workshop with a professional in the field. We tackled a text and we had a super interesting discussion which underlined how multifaceted translation is.
The socials hosted by NV every other week were a wonderful compliment to the classroom sessions. There was the classic biweekly Pub en Praten for which we gathered at the University Arms over a beer or two and some snacks. Moreover, there was Thee en Taart (meetings at a café in the afternoon) and special events such as Wine and Cheese, Karaoke, or the big Sinterklaas event. The committee was open to suggestions for their socials and announced them all on their social media.
Overall, Dutch ended up being my favourite module of the semester and I would highly recommend it to anyone coming to Sheffield and interested in learning the language. Before, I was aware that I knew some Dutch, but I never really had any confidence in my language skills and would always say that I wasn't any good at all. While my skills have definitely improved throughout the semester, I think that it is my confidence that has grown, and I've found that to make all the difference."
Adriane
A world-class university – a unique student experience
Sheffield is a research university with a global reputation for excellence. We're a member of the Russell Group: one of the 24 leading UK universities for research and teaching.