Dutch Student Society NV: Ambitions for 2021/22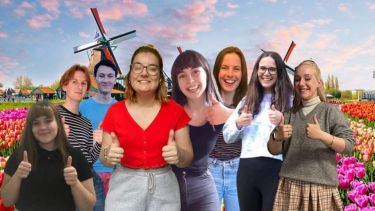 We are Lottie (she/her) and Poppy (they/them), your new President and Vice-President of the Nederlandse Vereniging! We want to present the team and share some of our initiatives for next year. The Nederlandse Vereniging is open for anybody at Sheffield with an interest in the language and culture of the Low Countries. 
Lottie studies German and Dutch, having picked Dutch as her beginners' language because of her enthusiasm for Germanic languages and after being so enthralled by the department at the Sheffield Open Day!
Having spent a year at the University of Bath, Poppy decided it wasn't for them and ended up at the University of Sheffield where they picked Dutch because Yeti had helped them through the application process! They study French, German, and Dutch.
The two of us will be overseeing the whole society and liaising with the Dutch tutors. You will find us at NV socials with big, cheesy smiles and bright orange hoodies, because WE LOVE DUTCH!!! :)
---
We have an amazing team who we will be working with throughout the year to make the society the best it can be!
First up, we have Gemma, our Operations Officer! Gemma will keep everything organised, writing minutes and emails, making sure that everything runs smoothly!
Next up is Jordi, our Finance and Development Officer! Jordi will be in charge of the cash, allowing us to run some fun socials and events!
Then we have Theo, our Inclusions Officer! Theo will make sure that everyone feels welcome and comfortable to join in with our society.
Next up is Alice, our Social Secretary! Alice will be in charge of organising and running exciting social events throughout the year!
Then we have Emma, our Educations Officer! Emma will be liaising with the Dutch section and organising some great events that you can learn from!
Last but by no means least, we have Libby, our Publicity Officer! Libby will be running our social media accounts, keeping everybody up to date with all the NV excitement!
Our aims and ambitions for the NV for 2021/22 are:
To engage as many Freshers as possible within the society
To provide a community of Dutch learners and speakers to encourage students on their Nederlands journey, getting to know the language and culture!
To provide a bridge between the social and academic by engaging with the department and rolling out fun, new initiatives such as 'Word van de Week'
To paint the town orange by running lots of fun and educational socials and events so that everybody has the opportunity to experience a slice of Dutch life!!! :)
Get in touch! You can find us on Facebook and on the website of the Sheffield Student Union.