Exhilarating languages: Creative translation in schools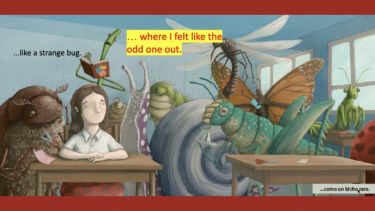 "There can still be shame about a home language; we still don't see heritage languages as an asset", says Rahul Bery, leader of our first Creative Translation for Schools workshop which took place in December 2020. As part of our collaboration with New Dutch Writing, a group of fourteen finalists in Dutch Studies are piloting this important broadening participation project for the School of Languages and Cultures. Together with lead translator and Sheffield alumnus Alice Tetley-Paul, our students will be fully-trained Creative Translation Ambassadors and take their skills into local schools.

Hard work, little gain: language learning is not always associate with joy, creativity and fun. Our students know better, and with this project the Centre for Dutch and Flemish Studies wants to contribute to a shift in perception and allow children to experience that language is creativity, enjoyment and fun. Through Creative Translation our ambassadors are trained to deliver workshops in local schools aimed at awakening a sense of creative joy, to recognise language skills, and to celebrate the power of language and multilingualism. 
Bery, a practising translator of Spanish and Portuguese himself and a former teacher and EAL expert, took our students on a journey of discovery. First, we were given the images of a picture book, without the text and in random order. In small groups we tried to construct a coherent story based on the pictures. Next, the order of the images as intended by the author, was revealed and the text in the unknown language was added. Then, with the help of a glossary provided, we put together a literal translation of the text. 

As a final step, the magic is released. Away from the original and not hampered by undue loyalty to the original text, our students turned the clunky literal version into an evocative, funny, English text, aimed at a youthful audience, and fully aware of tone and sound. In that final transformation from language with meaning to language charged with music and emotion, we experienced what the school children will experience in our workshop: fun, enjoyment, a creative flow.
"It just felt right", said Leo Harrison (BAMLC French, Spanish, Dutch) to explain why his group took the text from an I-narrative to a third person tale. Bery approved: "This is daring, what a liberating, instinctive move".
For our second training workshop in February 2021, we will pick the Dutch text that Alice Tetley-Paul and our ambassadors will take into local schools. In close collaboration with our Arts and Humanities Outreach Activities Officer, we will plan our trips into schools after Easter 2021. Watch this space!
Explore the University
Discover what sets Sheffield apart at our next on-campus open day.