Looking ahead: Taking translation into schools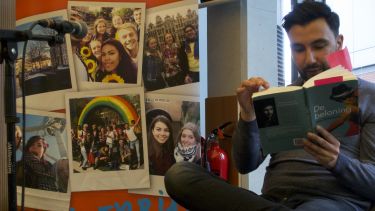 For many many years, Dutch at Sheffield has been the leading institution in the cross-institutional Dutch Translation project. Together with our colleagues at UCL and Nottingham, Sheffield students tackled a text written by the Taalunie Writer in Residence. In addition to the local tutors, the translation process would be steered and supervised by a professional translator. In February and March 2020, we welcomed Flemish author Fikry El Azzouzi and translators Jonathan Reeder and Alice Tetley-Paul.
We will take our engagement further in 2021.
Translation workshops for schools
Dutch Studies at Sheffield has teamed up with the cultural production company New Dutch Writing and Translation Exchange at Queen's College Oxford. The aim of the collaboration it to take translation into local schools in the form of creative workshops. Our students, who have a love of languages and a sensitivity of linguistic and cultural differences, share their enthusiasm with young people who often also have an (undiscovered) love and interest in languages. More often than not, the children speak more than one language themselves and the workshops set out to celebrate multilingualism and to showcase translation as a highly relevant skill for a child in the world today. 
'With an emphasis on translation as a creative, inspiring, and aspiration-raising activity, these workshops and resources channel the university students' expertise in translation and their enthusiasm for language-learning and literature into enriching experiences for young people from primary age upwards.'
Translation Exchange
So, in addition to their own translation project working with our Writer in Residence, our finalists will be trained as workshop leaders by the experts at Oxford. After their two sessions, they will be ready to conduct a number of workshops in local primary schools together with Alice Tetley-Paul, our New Dutch Writing Translator in Residence. This project is scheduled for February/March 2021 with the training to start in late 2020. The students will work with local pupils in Year 5.
For this project we will work closely with the outreach team of the Faculty of Arts and Humanities. If this pilot proves to be successful and popular, the translation workshop can be rolled out across the School of Languages and Cultures.
Explore the University
Discover why Sheffield is the right choice for you at one of our open days or events.