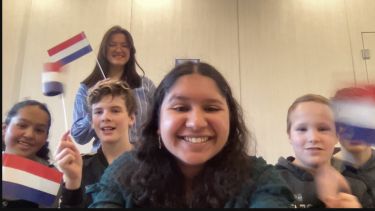 "Hello! Here is Alisha reporting from Holland. I am currently staying in Rosmalen (near Den Bosch) with a host family and so far, it has been lovely! I have only been here a couple of weeks… But I am already enjoying it so much!!
I recently had my first experience working in a school with Dutch children and I had my first seminars at Nijmegen! The course I am doing at Radboud University  is called 'The Dutch Language'. An unspectacular title perhaps, but it is an interesting mix of language learning, language analysis, and content teaching.  For example, we discuss the origin of the Dutch language and then discuss and learn new vocabulary. In our group work, we only speak in Dutch; scary but it makes you feel good. 
Teaching
In addition to uni, I am doing a teaching placement with Such Fun, which involves teaching English to children from 4-12 yrs in a number of primary schools. My first day was working with the Such Fun team at a school called Noorderlicht in Den Bosch. I cycled to and from the school; the bike is really the only means of getting around the schools. My cycling isn't the greatest yet, but I already feel more confident than before I came to the Netherlands! Especially as there are cycle paths everywhere and cars have to give way most of the time. I would definitely recommend getting a Swapfiets – a lease a bike scheme with chunky bikes – as it's easy to cycle with and they can adjust the size of the bike based on your height!
At Such Fun we change the lessons constantly to keep them up to date and this week the topic was "sustainable development goals". The programme was done online with other children from Spain, France, Wales, and Denmark. It was great to see the children connecting with other children from different countries and wanting to find out more about their lives and to practise speaking English with each other!
In a few weeks' time a big Dutch festival called carnaval is happening, so I also helped Yvonne (my boss) set up a scavenger hunt which will teach the children all about the tradition in English. I'm really looking forward to teaching them about it and seeing how the children find the scavenger hunt. I also can't wait to experience it myself, especially as Den Bosch is one of the known places it is celebrated!
Lekker eten
Finally, I am a bit of a foodie. My host family has cooked me loads of different typical Dutch dishes including stamppot (remember Chapter 5 in first year – stamppot andijvie met spekjes) and witlofschotel, and they plan to teach me how to cook them myself too! I especially enjoyed trying the witlofschotel: an oven baked dish consisting of chicory wrapped in ham with a creamy cheese sauce and mash covering the side of the dish. It's so tasty with the creamy sauce!! I would definitely recommend it."
I have had a really good start to my time in the Netherlands. These are my top tips for when arriving:
Order an OV chip card as soon as you can… this is essential for travelling on public transport!
Rent/ buy a bike (Swapfiets is good if you want to rent!) as it is super easy to get to places by bike in the Netherlands
Register with the municipality you're in as soon as you can… Your BSN (burgerservicenummer) is really important to have so that you can open a bank account as well as activate your DigiD account (once you have this you can get a discounted student OV chip card if you're studying at a university)
A world-class university – a unique student experience
Sheffield is a research university with a global reputation for excellence. We're a member of the Russell Group: one of the 24 leading UK universities for research and teaching.