Theatre: Postcards from Oostende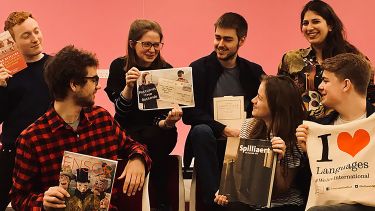 Postcards from Oostende is the result of an exploration of the Belgian city of Ostend, once a watering hole for aristocrats, writers and painters from all over Europe.
As part of the project module 'Flemish Fictions of the Sea', our students have written their own monologues and worked as a collective to put together a theatrical piece.
The performance will be in Dutch and English. This event is fee but please book a ticket.
Tickets Postcards from Oostende
It is wonderful to see each student growing in confidence with each session. Speaking in front of an audience takes courage, and they are really acquiring a new skill that will prove very useful in their further career. Creating a performance from scratch is not easy: writing a script, learning lines, thinking about character, rehearsing… We are very impressed with all the effort and energy they are putting in!

Filip De Ceuster

Module tutor and artistic director
---
Elinor Sheridan: "It's more than just the credits and the hour-long slot. it's an enjoyable and fun way of doing work whilst feeling productive and creative. We applied the texts we looked at and did our own research to create a piece that we can perform ourselves. It's a great experience and I found that this module soon became my favourite!"
---
Lukas Shakesheff: "I've never taken a module quite like this before - it's very different to anything I expected to do at university, but it's refreshing to do something which gets you out of your comfort zone and where we all have a common end goal to work towards. I can't wait to perform our piece!" 
Events at the University
Browse upcoming public lectures, exhibitions, family events, concerts, shows and festivals across the University.