Upcoming events and conferences for the DyVirt project.
---
March 2021
Virtual Conference on Epistemic Uncertainty in Engineering (ViCE)
In association with The University of Sheffield, The University of LIverpool (Institute for Risk and Uncertainty) and UKRI.
Multiple sessions during March 2021. Talks will be presented over Zoom.
Uncertainty engineering, 3 March, 15:00-17:30 GMT
Manifesto on uncertainty (revisited), 12 March, 14:00-16:30 GMT
Management of uncertainty, Date TBA
Uncertainty arithmetic, 17 March, 15:00 – 17:30 GMT
Admitting what you don't know, 25 March, 16:00 – 18:30 GMT
---
May 2021
DyVirt Training Week 3
Krakow, Poland
For DyVirt Consortium and ESRs only
---
June 2021
COMPDYN 2021
8th International Conference on Computational Methods in Structural Dynamics and Earthquake Engineering
27-30 June 2021, Athens, Greece
---
July 2021
NNM 2021
8th International Conference on Non Linear Vibrations Localization and Energy Transfer
5-9 July, Zurich
ENOC 2021
10th European Nonlinear Dynamics Conference
11 – 16 July. Lyon, France
---
September 2021
17WCEE
17th World Conference on Earthquake Engineering
Sendai International Center, Sendai, Japan, 27 September - 2 October
---
2022
DyVirt Workshop 2
For DyVirt Consortium and ESRs only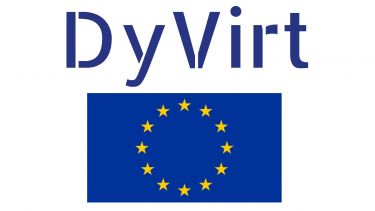 Dynamic Virtualisation: Modelling performance of engineering structures
This project has received funding from the European Union's Horizon 2020 research and innovation programme under the Marie Skłodowska-Curie grant agreement No 764547.