Professor Jackie Marsh
BA (Hons), PGCE, MEd, PhD, FAcSS, FRSA
Professor of Education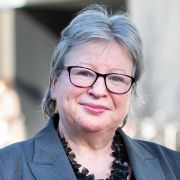 Profile

Jackie is interested in young children's digital literacy practices in homes, communities and early years settings. She has conducted research projects that have explored children's access to new technologies and their emergent digital literacy skills, knowledge and understanding. She has examined the way in which parents/carers and other family members support this engagement.

Jackie also has conducted a number of research projects that have explored how creative and innovative teachers have responded to the challenges of the new media age. She has evaluated a number of national projects that have aimed to develop teachers' expertise in the teaching and learning of digital and media literacy. In her more recent research, Jackie has explored changes in children's play due to developments in media, technology and commercial cultures.
Research interests

Jackie has undertaken research on children's digital literacy learning in homes, nurseries, schools and informal learning settings. She has also undertaken studies that have examined parents' and families' engagement in their children's digital literacy development.

Her work draws on theoretical frameworks located in sociology and communications, media and cultural studies. Jackie has employed a range of methodologies in her research, including large-scale, national surveys, in addition to ethnographic case studies which have included visual methods. She has expertise in participatory research with children and teachers, and in co-produced research with teachers and the children's media industry.

Recent funded projects

Makerspaces in Early Childhood: Enhancing Play and Creativity (MakEY) 2015 – 2019, Funded by the EU Commission, Horizon 2020 (PI Marsh)
COST Action IS1410, 'The Digital Literacy and Multimodal Practices of Young Children' (DigiLitEY), 2015 – 2019, funded by the EU Commission (Chair/Grant Holder Marsh).
Childhoods and Play. Funded by the British Academy, 2012-2021 (PI Marsh, Co-Is Bishop and Burn)
Playing the Archive: Cultural Memory and Virtual and Physical Play, 2017-19, Funded by the EPSRC (PI Burn, Co-Is Marsh, Bishop, Potter, Woolley).
Exploring Play and Creativity in Young Children's use of Apps, Funded by the ESRC, 2015 (PI Marsh, Co-Is Plowman, Yamada-Rice).
Digital Futures in Teacher Education, Funded by JISC, 2012, (PI Pountney, Co-Is Marsh, Merchant).
Children's playground games and songs in a new media age, 2009-11, funded by AHRC (PI Burn, Co-Is Marsh, Mitchell and Willett).
Publications

Books

Edited books

Journal articles

Chapters

Datasets
Teaching activities
Professional activities

Fellow of the Academy of Social Sciences, 2017-present.
Co-editor, Journal of Early Childhood Literacy
Editorial board member of Australian Journal of Literacy and Language; Child Language Teaching and Therapy; Contemporary Issues in Early Childhood; Discourse: Studies in the Cultural Politics of Education; Educational Studies; E-learning and Digital Media; Media Education Research Journal.
Chair, UKLA/Wiley Blackwell Research in Literacy Education Award Committee 2011-2017
Past President of United Kingdom Literacy Association
Member of ESRC Peer Review College, 2009-present.