Information for students who do not take out a student loan
If you are eligible for loans to fund your studies but do not take them, you will need to plan your finances carefully. However, there is still information available to help you make an informed decision about how to finance your studies.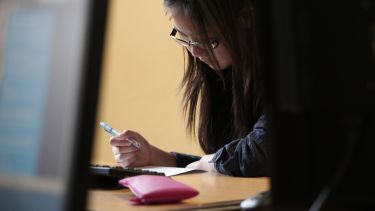 On
What are student loans?
Undergraduate students
The UK government offers eligible undergraduate students a tuition fee loan and maintenance loan for each year of study.  For students from England starting their studies from September 2023 onwards, the interest rate will be based on the Retail Price Index (RPI). Students from devolved nations should see their local agency websites for more details.
Postgraduate students 
The UK government offers loans to eligible taught and research postgraduate students. These loans are a contribution towards tuition fees and/or living costs. 
Read more about postgraduate loans, postgraduate masters scholarships, PhD loans and PhD scholarships.  
It is really important to consider your funding options if you do not wish to take out a student loan, in order to ensure that you can pay your tuition fees and living costs.
Other UK government student finance
Some elements of government student finance are not repayable and depend on your personal circumstances. These include supplementary grants for dependents or disability-related course costs. If you are assessed for support by Student Finance Wales, you may qualify for a non-repayable maintenance grant. 
You will usually need to apply for student finance to receive this support, although you are not obliged to take any of the loans that they offer (you can apply for a £0 loan). Please visit your local agency website for more details.
Student Finance Northern Ireland
Student Awards Agency Scotland
Welfare 
If you are entitled to claim welfare benefits as a student, the office assessing your benefit claim may assume you have taken your UK government student finance loan entitlement and reduce your benefit entitlement accordingly. Check with your relevant local Citizens Advice for more information.
If you are a prospective student with an offer or a current student, you may also wish to speak with someone from the Student Advice Centre. You can also refer to the advice that they provide online.
Student Advice Centre - Benefits and Tax Credits
Interest-free overdrafts 
Most UK banks offer student accounts for undergraduates who have a maintenance loan. These accounts are interest free, up to a specified limit and dependent on your credit history. The bank may want to see evidence of your maintenance loan before opening an account.
Alternative sources of funding
More information about alternative sources of funding can be found on our web pages.
Additional funding for undergraduate study
Additional funding for postgraduate study
---
You may still be eligible for University bursaries, scholarships and fee discounts. However, in order to be assessed for University support, you do need to apply to Student Finance England (or equivalent national agency), although you are not obliged to take any loans they offer (you can apply for £0 loan).
The University of Sheffield Bursary Scheme/Experience Sheffield Scholarship (ESS)
To be eligible for the main University bursaries and ESS, which are especially designed to support undergraduate students from a widening participation background, we will need confirmation of your household income. Students can apply for a household income assessment to be carried out by Student Finance England (or their regional funding authority), even if they are not receiving a maintenance loan, in order to access this fund.
University of Sheffield Bursary Scheme
Experience Sheffield Scholarships
Financial Support Fund
If you are experiencing financial difficulties once you have started your studies due to unforeseen costs, then you may be eligible to apply for additional support via the University support fund. 
Apply to the Financial Support Fund (student login required)
---
Deciding whether to take out a student loan can be a confusing time for Muslim students due to differing financial rulings in Islam regarding the matter of riba (interest) in loans.
Here is some information for you which we hope may help you make your decision.
Shaykh Haitham al-Haddad as well as a number of other scholars and fatwa organisations of the UK and Europe (including the European Council for Fatwa and Research) gave the ruling that it is permissible for Muslim students to take the Student Finance university fee loan, and that there is no interest involved when one does so. This also applies to taking the maintenance loan. This ruling applies regardless of whether one pays back the 'loan' later on or not. In neither case is interest involved, and it is therefore permissible for everyone to take the loan, even if they have plenty of money to cover their studies.

Fettah

Fettah, Zahed. "On Sh Haitham's Student 'Loans' Fatwa." Islam21c, 5 May 2016, https://www.islam21c.com/islamic-law/on-sh-haithams-student-loans-fatwa - accessed 13 June 2023 
Further information on these rulings
The government has recently published information about providing shari'ah-compliant alternative funding in future.
Policy paper - alternative student finance
As and when the government makes any changes and provides shari'ah-compliant alternatives to the existing student loans in future, we will include more information on this web page.
Shari'ah-compliant funding
Some Muslim students may wish to avoid loans altogether so you may be advised to investigate alternatives, such as: interest-free loans from Islamic banks; private trusts; looking for part-time work; or utilising family resources. 
Some banks offer shari'ah-compliant accounts and loans. 
Some financial institutions have shari'ah-compliant financial services. They guarantee that money held in these accounts is not invested in industries such as gambling, alcohol or weapons manufacture.
Scholarships for British Muslims
The University of Sheffield is a preferred partner of the Aziz Foundation, a charity that offers 100% tuition fee masters scholarships to British Muslim students studying at UK universities. For more information about the scholarship programme and how to apply, please visit our web page.
The Aziz Foundation Scholarship
Trusts and charities
If you are a Muslim student and have secured your main source of funding for your studies, you may be eligible for some additional financial help from the National Zakat Foundation. Find out if you are eligible and what you might receive on the National Zakat Foundation website.
Contact us
If you have any questions or would like to discuss this with a religious advisor, please contact Ameena Blake, Muslim Chaplain, via email: ameena.blake@sheffield.ac.uk.
Belief, No Belief and Religious (BNBR) Life Centre - Find a chaplain/advisor
---
If you have concerns about the level of funding available to you and how you can manage your budget, you can make an appointment with a Money Adviser in the Student Advice Centre. Both prospective students with an offer and current students can seek advice.
You can email via advice@sheffield.ac.uk or visit in person on Level 3 of the Students' Union.
A world-class university – a unique student experience
Sheffield is a research university with a global reputation for excellence. We're a member of the Russell Group: one of the 24 leading UK universities for research and teaching.