Welcome to the University of Sheffield Geography Society page.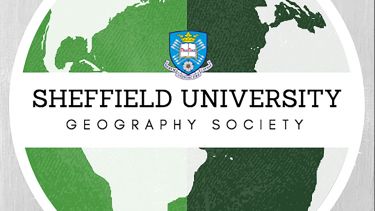 Off
GeogSoc has an abundance of fun activities to partake in throughout the academic year, whoever you are and wherever you come from. Our Facebook and Instagram pages are a great way to find out what we as a society are currently up to and what unmissable events are on the horizon.
We pride ourselves on being one of the biggest societies at the University of Sheffield, with over 400 members. But not only big, one of the best. Last year we were voted by the Students Union as one of the top 3 academic and departmental societies.
Socials
There are so many ways in which you can get involved as a member of GeogSoc. One of the main ways is by coming on our socials such as our famous 'Colouring in Social' which attracts around 200 students every year. Our socials include the Varsity social against Sheffield Hallam, Pub Quizzes and the Winter Soirée Charity Auction. The end of year ball is also attended by around 350 people including students and staff and is a great way to finish off your year.
A highlight of every year is the GeogSoc Tour. After January exams we take around 80 people for a long weekend in a European city. Everyone has the most amazing time; seeing new places, meeting new friends from all years and having a few drinks along the way.
This year we are going to have an increased emphasis on non-alcoholic events, which will include trips to the alpaca farm, walks in the Peak District and a trip to the Manchester Christmas Markets.
Academic and careers support
This year GeogSoc now run their own weekly support sessions every Tuesday called GeogSoc Seminars. These sessions are an incredible way to engage further with your degree and will help you in many aspects of your time at Sheffield. Our education officer brings in lecturers to help teach on topics such as exam/essay techniques or referencing. As well as sessions focused towards helping you find employment opportunities through alumni networking and guest speakers from the University and external organisations. 
Volunteering and charitable work
GeogSoc runs lots of exciting charity fundraisers such as 10k runs and half-marathons, pub quizzes and auctions. This year, alongside Cathedral Archer Project we will be supporting a Sheffield based environmental charity for the first time. As a society, we want to be at the forefront of aiding environmental protection in the local area.

Not only do we raise money for these amazing and influential charities, we also provide volunteering opportunities with some of them as well. As part of GeogSoc you will get a chance to help out at the Cathedral Archer Project's food kitchen and at a local allotments.
Sports
Sports are one of the best ways to engage with new people at university and GeogSoc provides plenty. We offer our members netball and football, both are open to all genders. Our football teams are highly successful but open to all. We have four, academic year based 6 a-side teams, from first year to postgraduates and two 11 a-side teams at the weekend which are picked by our sports secretary every week to compete in the intramural leagues.

These are a great way to meet people in your year and in other years to increase the amount of friendly faces you will see around the Geography building and campus in general. Netball have one team which combines all different year groups, and all abilities. This again is a fantastic way to get to know people you may not get to chat to in lectures. It is also a great opportunity to make friends in different years, this way you always have someone to go to for advice on the best lunch or pub spots around Sheffield.
Get in touch
We aim to provide a middle ground between the department and you to make your degree and university life as fun, rewarding and enjoyable as possible. The University of Sheffield is an amazing place to live and learn and we hope that we can be a part of your experience.

If you have any questions or want to get involved feel free to contact any of the committee.
Membership for GeogSoc costs just £30 for 3 years, £20 for 2 years and £15 for 1 year and is available at https://su.sheffield.ac.uk/activities/view/geography-society

The fee goes towards putting on and making sure we give you the best value for money for all the socials, sports, charities and activities you can get involved in during your time at Sheffield.

We also offer special discounts for international students who are here for either 1 month or 1 year.
Study with us
Join an international community of geographers and help tackle the biggest issues in our changing world.
A world-class university – a unique student experience
Sheffield is a research university with a global reputation for excellence. We're a member of the Russell Group: one of the 24 leading UK universities for research and teaching.