Green Impact is an environmental accreditation and awards scheme run by the National Union of Students, bringing staff and students together with their wider communities to enable and showcase positive changes in environmental practice.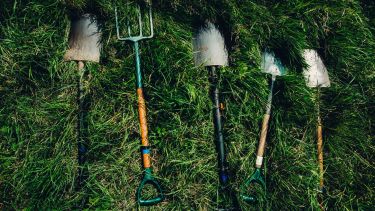 Here are the key activities we are doing to work towards a Green Impact award.
Projects 2019/20
Recycling the unrecyclable
This project aims to use existing infrastructure outside the department to recycle items which are not conventionally recyclable, such as pens, crisp packets and tetrapaks.
Reducing travel
This project will encourage staff and students to consider the environmental impact of their travel to conferences and on field trips, thereby promoting greater carbon literacy.
How can you get involved?
Join the Green Impact team
The Geography Department Green Impact Group is an open group aiming to enable progress on sustainability in the department. Students and staff at every level are very welcome to join. The more of us there are, the more of an impact we can have!
If you're interested in joining, please register online here.
Save energy
Get in the habit of switching off your computer and/or monitor whenever you leave your desk, or when working without the computer. Switch off fully at the end of the day and if possible switch off at the plug, as monitors can continue to draw power even when switched off.
Switch off printers, scanners, phone chargers etc when not in use, preferably at the plug as these devices can continue to draw power even when switched off. The same goes for heaters and fans.
Switch off lights when not needed, either because of daylight or because no one is in the room. Switch off lights in common areas such as toilets or kitchens if no one is in the room.
Please take particular care to switch things off at the weekend, and especially if you are away from your desk for a longer period such as during the Christmas and New Year closure.
Reduce waste
Avoid unnecessary photocopying by sending documents electronically so that recipients can print them only if needed. Make sure you print double-sided - most of the network printers do this by default, but instruction posters are located near departmental printers.
Avoid disposable products where possible, eg disposable cups, plates and bottled water. A reusable water bottle or travel mug can save dozens of disposables and will save you money.
Find second uses for things, for example reusing plastic bags, envelopes and scrap paper or finding a home for unwanted furniture or equipment.
Recycle
You should have easy access to a recycling bin for paper and cardboard. If your office does not have one, please ask Luke Fowler.
Toner cartridges are collected from beside the Porters Lodge by the University's recycling team. Please fill in the logbook with details of cartridges left.
The University also offers facilities to recycle batteries, WEEE, tubes and lamps (including fluorescents and microscope lamps), cardboard, mobile phones and catering platters.
Choose sustainable transport
Minimise travel where possible, using communications technology where appropriate. Where travel is necessary, aim to use the mode of travel with the lowest impact within cost and time constraints. In particular, domestic air travel should be avoided in favour of the train. Consider walking, cycling or public transport for local journeys. The University enables and promotes lots of alternative transport arrangements for staff and visitors.
Staff from the Department of Geography are leading the way in reducing academic air travel. For instance, staff recently travelled to the United Nations Climate Change Conference (COP24) in Katowice by train, while others have taken an interdisciplinary approach, working with colleagues in the Management School to organise a Symposium on Reducing Academic Flying.
Study with us
Join an international community of geographers and help tackle the biggest issues in our changing world.