We recognise the invaluable support that our laboratories provide to both teaching and research within the department.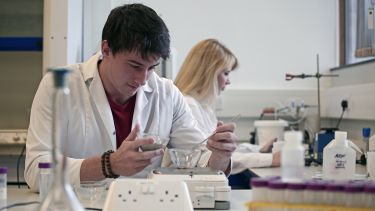 We have a well-equipped computer teaching laboratory, postgraduate and undergraduate physical geography laboratories, and image processing facilities which provide an important component for teaching and research in remote sensing and geographical information systems (GIS).
Geochemistry Laboratory (B11j)
Our geochemistry lab is used for sample preparation and research into environmental science areas such as remediation, climate change and supporting undergraduate dissertations.
Analytical Chemistry Laboratory (B11a)
Our analytical chemistry laboratory houses facilities and equipment for the analysis of research into areas such as low-level nutrients, pesticides, organics and organic/inorganic carbon. Equipment includes Ion Chromatography (IC), continuous flow analysis (Skalar), High Performance Liquid Chromatography (HPLC) and Sievers TOC analysis.
Sediment Laboratory (B11h)
The sediment laboratory is used for the preparation and analysis of rock, soil and sediment samples for both research and teaching purposes. Our preparation facilities include ovens, furnaces, sample milling and sieve shaking whilst analysis includes Laser Particle Size Analysis (PSA) and Olympus Delta Handheld X-ray fluorescence (XRF).
Teaching Laboratory (B06)
The teaching laboratory houses all our undergraduate teaching and laboratory-based dissertation projects. With space for up to 50 students, subject areas taught include; chemical and microbiological analysis of water and soils, glaciology and rocks and minerals.
Study with us
Join an international community of geographers and help tackle the biggest issues in our changing world.
A world top-100 university
We're a world top-100 university renowned for the excellence, impact and distinctiveness of our research-led learning and teaching.