Icebergs have long been a risk to shipping in the north-west Atlantic, with records of collisions and sinkings stretching back into the 17th century.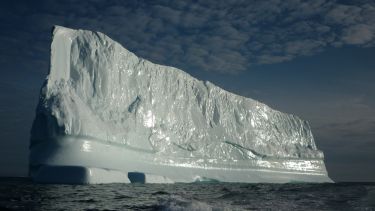 Off
The infamous sinking of the Titanic in April 1912 led to the formation of the International Ice Patrol, which is tasked with observing sea ice and icebergs in the north-west Atlantic and warning shipping of ice hazards.
The iceberg risk varies enormously from year to year, with some years recording no icebergs passing across 48°N while others record well in excess of 1,000 – making it difficult to predict, though generally higher numbers have been counted south of 48°N since the 1980s.
A project team led by Professor Grant Bigg of the University of Sheffield has developed a suite of control systems and artificial intelligence models to forecast the total number of icebergs passing 48°N, and the rate of change in this number across the peak ice season of March-September. This forecast has been supplied to the International Ice Patrol early each year since 2018.
You can view a summary of this year's iceberg forecast, with a fuller description of the forecast details in the seasonal forecast PDF (368 KB).
The forecast will be of interest to those managing shipping trade links across the North Atlantic, as well as private individuals and governmental agencies using the seas between Greenland and the east coast of Canada and the US.
Background papers about the model approaches can be found on the project outputs page.
Flagship institutes
The University's four flagship institutes bring together our key strengths to tackle global issues, turning interdisciplinary and translational research into real-world solutions.