Africa scholarship holder Charles Ombonya wins Masters dissertation prize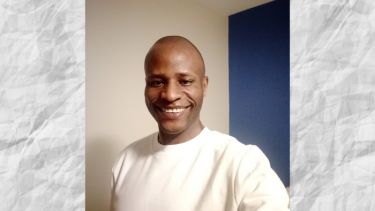 Charles, from Kenya, was the holder of the University of Sheffield Africa Scholarship (USAS). This offers a full tuition fee waiver and maintenance package each year to one student from the African continent, to join the Department of Geography's International Development Masters programme. Charles came to Sheffield with a background in community development in Kenya and a determination to further his knowledge and skills in order to put them into practice in his home country.
Because graduation was delayed due to the Covid-19 pandemic, Charles was unofficially informed of his prize some time ago. He now says: "The news still feels fresh and thrilling, although I am getting it for the second time. I am grateful for the great support offered me during my studies. I feel so indebted to the USAS team for the opportunity to make my studies a reality."
Charles has recently been offered the post of Projects Coordinator of Health and Advocacy with ADS Nyanza, a faith-based human development organisation in Kisumu, Kenya. This is a senior post which recognises Charles' achievements in his Masters degree. "In this position, I will be able to apply the skills acquired during my studies in Sheffield," Charles explains.
Charles worked on his prizewinning dissertation while on a research attachment with Dr Julie Balen (ScHARR) and Professor Simon Rushton (Department of Politics) and their team. This was part of their project on Federalisation and Health Systems Change in Nepal, a three-year multi-partner study of the impact of constitutional changes on the health system. Although Covid-19 prevented Charles from travelling to Nepal, he worked remotely with partners in Nepal and in the UK, focusing on healthcare logistics management. He has remained involved in the project team and has drafted a paper for publication, based on his dissertation work.