Celebrating staff: Professor Vanesa Castán Broto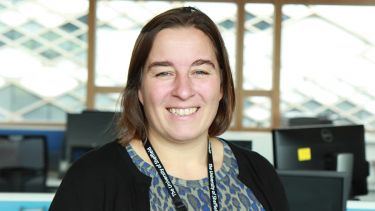 This month focuses on Professor Vanesa Castán Broto, who is part of the Urban Institute.
What do you do?
In my Professorial Fellow role I divide my work into four chunks: managing the research projects I lead, reading and writing, travelling to meet the demands of the projects, and the delivery of teaching, examining, engagement and impact activities.
For example, at the moment I have been doing a lot of management and recruitment for the project Low Carbon Action in Ordinary Cities (LO-ACT), funded by the European Research Council which started in February. In addition to LO-ACT, I have management responsibilities for other three major projects which I lead at Sheffield. Contributing to the Urban Institute (through the development of a new theme on Climate Urbanism) takes also some of my attention, and particularly, thinking space. In terms of reading/writing projects, my new book Urban Energy Landscapes (Cambridge University Press) is just been published and, like everyone, I have several projects on the pipeline that never go as fast as one expects.
What have you done recently in your job that you found rewarding?
The Inaugural Lecture that I did at the University of Sheffield on the 20th March 2019 was one of the happiest days of my life. Inaugural lectures are nice occasions. They offer the opportunity to reflect upon your career and direction, and this is a very important thing to sustain enthusiasm and commitment in an academic career. In the lecture I cited the great bell hooks and she writes: "During the time between ending one project and beginning another, I always have a crisis of meaning." This illustrates a common dilemma among academics.
This is what I did on this Inaugural, reflecting upon my career. And while doing so, I felt so welcome! There was an amazing audience, a lot of my colleagues and friends were there (even my family) and people seemed to really enjoy the talk. After the talk I had fantastic conversations with people around the Faculty. I was very pleased to see so many of my colleagues from Geography.
What motivates you to get out of bed in the morning?
My family is the reason why I get out of bed in the morning! Even in the times when I have been very ill (I have an autoimmune disease that affected me, especially my mobility) I used to visualise my family to help me move forward. But there are three other reasons why I work:
First, I do think I am working on a topic that is really important. As an academic, I think is very important to feel part of a larger team, and I am proud of engaging and contributing to the ideas and thoughts of an academic community working to deal with a climate-changed future. In my case, my work is led by both curiosity and a sense of responsibility.
Second, I do love reading and writing and I always feel really happy after a day of engaged work in a particular text or idea. I find the whole reading/writing process really engrossing and I feel I learn every time I write something.
Third, I am now doing things that match the dreams I had when I was small. Being an academic in a prestigious university abroad, leading a research team or even contributing to international prestigious organisations such as the Intergovernmental Panel on Climate Change was always the stuff of dreams for me. I feel very proud that I made that dream a reality and that is a very important motivating factor. The European Union and its Erasmus program was a big factor that made that possible.
What are you looking forward to in your job?
In the next few months I hope to get to grips with my new ERC project, LO-ACT. I have now appointed the whole team and we are starting to learn how to work together. We will have the inception meeting in July, and by that time I hope to have my hands deep in the water!
The other thing I am looking forward to is the exhibition at the British Academy Summer Showcase on the 20-22 June. I will be presenting the results of a British Academy project I led to study Sustainable Energy Access in Mozambique. The project, involving a large research team with members from Oxford University, the University of York and the Universidade Eduardo Mondlane in Mozambique, finished in February and the exhibition is a great opportunity to present the results. We will be doing so with an installation of a Mozambican artist, Michelle Cook. This will be something very different from anything I have done before so I am a bit nervous, but I cannot wait to the actual exhibition day!
Study with us
Join an international community of geographers and help tackle the biggest issues in our changing world.