Department receives Geoff Brown Memorial Funding to help pioneer global volcano monitoring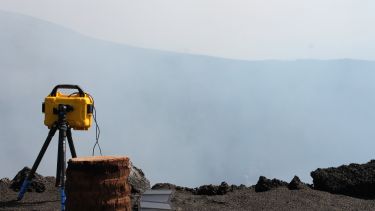 The volcano research team in the Department of Geography have been approached by the Open University Geological Society (OUGS) with a donation from the Geoff Brown Memorial Fund.
Professor Brown was the Head of the Department of Earth Sciences at the Open University, and was tragically killed by a volcanic eruption in 1993, whilst working in the crater of Galeras volcano in Colombia.
The OUGS subsequently created this fund in Geoff's memory to fund the distribution of volcano monitoring equipment to volcano observatories across the planet. We will use the funds to disseminate new low-cost smartphone-based monitoring technology, invented in the Department of Geography at the University of Sheffield, to volcano observatories around the globe.
Stuart Swales, Treasurer of the OUGS, said:
"To honour Geoff's memory the Open University Geological Society (OUGS) set up a fund to buy equipment that could be used by local people to monitor the activity of hazardous volcanoes in their area.
"We were delighted to discover the highly innovative developments at the University of Sheffield to produce and deploy lower-cost volcano monitoring equipment and felt that a donation from OUGS's Geoff Brown Fund towards supporting this work would be most appropriate."
Andrew McGonigle of the Department of Geography said:
"We are incredibly grateful to receive this funding. The Galeras disaster is something we teach the students about and serves as a timely reminder of the importance of gas measurements in volcanology – in fact, I gave a lecture on just this topic the morning the email arrived from the OUGS. The funds will help us to develop new low-cost smartphone-based devices for distribution to our partner volcano observatories across Latin America, to perpetuate the spirit of Geoff's work."
Study with us
Join an international community of geographers and help tackle the biggest issues in our changing world.