'Green Barrier' air quality project wins support from the British Academy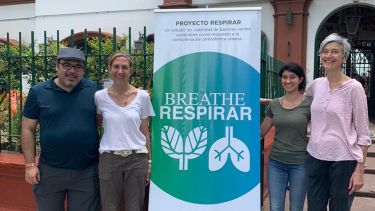 The project - 'Breathing Infrastructures: Green Barriers for Air Quality, Well-Being and Community Mobilisation in Buenos Aires' - seeks to demonstrate the efficacy of green barriers in filtering air pollution out of schoolyards to reduce environmental risks on children's health and development, as well as the multiple social and ecological co-benefits that this form of urban greenery can produce when designed effectively and with multipurpose intentionality.
It has been selected as one of 23 projects that the British Academy is supporting through the Urban Infrastructures of Well-being scheme.
Dr Miguel Kanai of the Department of Geography is the project's Principal Investigator. He's working with an interdisciplinary team including Prof Beverley Inkson from the Department of Materials Science and Engineering and Prof Anna Jorgensen from the Department of Landscape Architecture.
---
Air pollution in cities is a pressing problem for health and well-being worldwide. Yet there is much more that we need to know about how these breathing infrastructures can be produced and maintained effectively, and what it takes for local communities to benefit from their multiple social and environmental benefits.

Dr Miguel Kanai

Department of Geography
---
Miguel's research primarily engages with the UN's Sustainable Development Goal #11: 'Sustainable Cities and Communities'. His approach is based on interdisciplinary collaborations and participatory processes to co-produce knowledge with multiple stakeholders involved in the social production of urban space.
Miguel said: "It's really amazing that our project has been selected as one of the 23 projects that the British Academy is supporting through the Urban Infrastructures of Well-being scheme. Green fences are increasingly recognised as an effective palliative for critical locations such as parks and school yards, which are often used by the most vulnerable populations. This recognition will allow us to move ahead with our work on urban air quality, green infrastructure and environmental awareness among residents.
"As an urban geographer I'm keenly aware that these research challenges require collaboration across disciplines. Having the University of Sheffield's Department of Geography, a uniquely interdisciplinary hub, as my academic home has allowed me to develop these interdisciplinary partnerships locally and internationally. I look forward to this project's development and growing capacity."
Spanish speakers can find out more about the project on the Buenos Aires City Government website.
Flagship institutes
The University's four flagship institutes bring together our key strengths to tackle global issues, turning interdisciplinary and translational research into real-world solutions.