Green infrastructure: contributing to air quality, health and wellbeing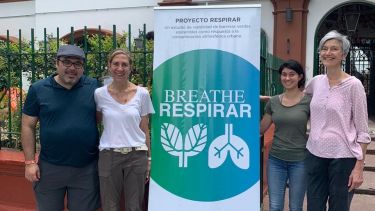 While we face a planetary crisis of human disruption* – depletion of resources, pollution, environmental threats and extensive urbanisation – evidence is accumulating on how green infrastructure can reduce our impact on the Earth and a team of social scientists at the Universities of Sheffield and Buenos Aires are looking for a solution. 
The team at the University of Sheffield is led by Head of Landscape, Professor Anna Jorgensen, and includes Senior Lecturer Dr Miguel Kanai and Research Associate Dr Janice Astbury, from the Department of Geography. The core team works with multiple co-investigators and collaborators based in the Departments of Urban Studies and Planning and Animal and Plant Sciences, and in the Faculty of Engineering. In Buenos Aires, Professor Verónica Fabio from the Faculty of Architecture, Design and Urbanism at the University of Buenos Aires, leads an extensive interdisciplinary team. 
Both teams have embarked on a collaborative research project which explores how green infrastructure and other nature-based solutions contribute to air quality, health and wellbeing, and provide opportunities to enjoy co-benefits such as connecting people and nature, and supporting development of an inclusive green economy. 
The initiative, Breathe/Respirar, is being implemented through a series of projects undertaken by the Universities of Sheffield and Buenos Aires in collaboration with schools, communities and other organisations.
Dr Kanai, the principal investigator for the Breathing Infrastructures project brings attention to the value that cities offer to pursue global sustainability initiatives by reducing their vast planetary footprints whilst addressing the environmental threats that impact their millions of residents. 
'In our opinion,' Dr Kanai said, 'landscape disciplines should be informing efforts into green infrastructure, providing expertise on the selection of optimal plant species, integration of green layers to existing built environments, and designs that will garner public interest and raise awareness about urban air pollution (sources, consequences and ways to abate it) as well as other environmental challenges.'
While biological, chemical and physical scientists are needed to model and analyse the effects of these interventions, social scientists play a key role in establishing how to engage people in transforming their relationships with nature, and accessing corresponding health and wellbeing benefits and opportunities for new livelihoods. 
'Such multidisciplinary approaches can contribute to redefining the way cities work,' Dr Astbury said, 'with emphasis shifting toward collaborating with nature to improve quality of life for all inhabitants.'
Professor Jorgensen said: 'Breathe /Respirar is a genuine collaboration between two universities in the UK and Argentina respectively. It provides a really valuable opportunity to explore the concepts and practices of green infrastructure in two very different geographical and cultural locations, helping us to develop the international application and development of green infrastructure by learning about what works in those two very different contexts.'
Breathe/Respirar began in 2017 and its ongoing work is split into three projects across Sheffield and Buenos Aires. 
BREATHE, funded by the Grantham Centre for Sustainable Futures, set out to investigate the potential of green barriers and living fences around school playgrounds, as a way to block and filter air pollution, creating a healthier environment for children and facilitating contact with nature for the school community.  The ongoing project involves teachers, parents and children in designing and implementing living walls and fences and other planted areas featuring air-cleansing plants and flowers. 
Breathe Deep, a project funded by the University of Sheffield through the Global Challenge Research Fund, worked with small-scale horticultural producers from disadvantaged peri-urban areas of Buenos Aires. The goal was for participants to acquire the skills to construct and install green fences. With a focus on social inclusion and the future of work, the project provided the producers with opportunities to diversify and expand their work to service the emerging green infrastructure sector in the region. 
Breathing infrastructures, funded by the British Academy, implements Urban Living Labs (spaces created to carry out experiments in the real world so that they can reflect the complexity of cities) in Buenos Aires with the aim of taking the Breathe model to scale by demonstrating the efficacy of green barriers in filtering air pollution out of school yards to reduce environmental risks to children's health and development. 
So how can these projects influence green infrastructure practice on a wider scale? Professor Verónica Fabio said: 'This type of project that addresses the micro-scale can be perceived as implementable in the short term and without the need for large sums of money, or with objectives that can be perceived as unattainable. 
'Having incorporated environmental education in schools as another pillar of the programme, we are indirectly supporting the training of children and the embedding or environmental commitment in the next generations. They will be protagonists and multipliers to take the project further and promote the value of green infrastructure and reconnection with the benefits of nature, which is at the heart of our project.'
Working with communities and organisations is paramount to extending the life of the project, says Professor Fabio: 'Ensuring that the educational community, civil society, and especially children can be involved from the first moment, there will be more possibilities for the project to transcend the academic context, and be appropriated and multiplied by the community itself.  One of the findings from our first 'breathing school' in Argentina showed this when representatives of the school community itself appropriated the project to such an extent, considering it like their "home garden" and valuing its co-benefits.
'Furthermore, the multiplicity of actors participating in the project strengthens co-creation and collaboration in the construction of knowledge derived from theory and practice, which enriches the experience of the project as a social and environmental proposition.'
Dr Astbury added: 'Green infrastructure, and nature-based solutions more broadly, are different from conventional infrastructure because they are not a means to an end, they are a means and an end. They're about reinventing the relationship between cities and nature so that we work with nature rather than against it. With green infrastructure we recreate space for nature to do what it does, from which we as humans will derive anticipated benefits but also set wider processes in motion. So it's not just a matter of reducing our impact by choosing a more environmentally friendly approach to meeting our needs but also (if done well) of facilitating the regeneration of ecosystems that sustain life on earth. 
'We are taking an Urban Living Lab approach to our Breathing Infrastructures project, which means we are co-designing and testing pilot interventions with partners and stakeholders. We are experimenting and collectively learning what works and doesn't work and we will share this learning among our network of collaborators, and through publications targeting policy actors and practitioners. We hope to see green barriers/living fences and other forms of green infrastructure multiply across Buenos Aires and Argentina, and beyond. There is a latent demand for green infrastructure in Latin America and an opportunity to use it to create green jobs in a green economy. It's all very exciting!'
Find out more about the Breathe/Respirar project
*We are facing a planetary crisis as a result of human disruption of the Earth System and its manifold consequences (Hamilton, 2017).