How are the Rights-based approach to development helping you rethink the contemporary issue of Gender-Based Violence?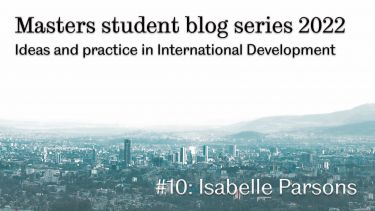 By Isabelle Parsons.
Isabelle is a student on our MPH International Development. You can follow her on Twitter.
---
The UNHCR estimates that one in three women will experience some form of violence in their life. Gender-based violence (GBV) refers to harmful acts towards individuals based on their gender. GBV is rooted within the ideas of gender inequality and abuse of power. When looking at GBV we must consider mental, physical, sexual and economic harm inflicted upon an individual. 
Female Genital Mutilation (FGM) is a specific form of GBV. FGM is practised in Asia and Africa as well as in some Western countries. The WHO reported that 28 countries still practice FGM and Amnesty International reported more than 2,000,000 cases (Kalev, 2004). 
By using a rights-based approach, especially regarding GBV, you protect the rights of half of the population, you create a more equitable and balanced foundation in which to develop. A needs-based approach focuses on the necessities to survive - not the society built around it and the resources available (Cornwall and Nyamu-Musembi, 2006). Rights-based approaches are key in restructuring views surrounding GBV as it changes from a secondary problem to a fundamental building block in the process of development. 
A Rights-based approach to development (RBAD), focuses on the legal aspects behind development. At a basic level RBAD focuses on protecting rights rather than meeting vital needs as detailed above. This approach is designed to be participatory and is built on the involvement and advocacy of the excluded members of society (Miller and Redhead, 2019). RBAD is about the empowerment of the rights-holders/marginalised groups to claim their rights and to strengthen the duty-bearers to help obtain and respect said rights. 
Activism and advocacy are key points in RBAD, it brings the benefits of participation and inclusion and the imperative of autonomous action. This approach is key in FGM and GBV as it is framed to give power to the right-holders and to give them the power to stand up for said rights. Increased activism from the 'bottom up' often leads to the institutionalisation of cooperation in matters between vulnerable groups and the state. 
RBAD require rights-holders to be active participants in development and part of the discussion with duty-bearers (Broberg and Sano, 2017). This idea rearranges the roles of key players in development as it shifts everyone who is not being marginalised into duty-bearers. In a GBV context, the cooperation between duty-bearers and external organisations is vital to the women being marginalised especially in relation to FGM as they should be the ones to reclaim their rights for their own empowerment and allows the community to develop as there become more active participants in development. 
To conclude, rights-based approaches to development help to completely reframe the viewing of development and force the issues of GBV to be one of the central pillars. RBAD provides a more personal approach to development and advocates for the protection of the individual compared to needs-based approaches which focus on society as a whole. Rights-based approaches give the new understanding that change cannot be implemented unless the rights-holders understand the need for change and become active participants to implement said changes.
---
References