International Women's Day 2021: our research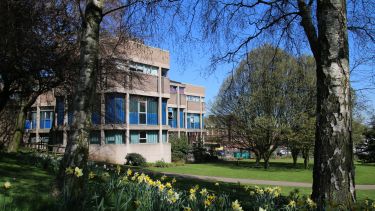 As a department, we explore the issues of social justice and environmental change in order to help develop real-world solutions. On this page you'll find examples of some of the work that is taking place within the department in fields as diverse as food security, glaciology, digital technology, agriculture, construction and creative writing.
To find out what International Women's Day means to our students and staff, please take a look at our "Choose to Challenge" video.
Dorothea Kleine: Uniting women change-makers to shape Africa's digital future

Dorothea Kleine is the Principal Investigator for GeDIA (Gender-Just Digital Innovation in Africa), a programme which unites women change-makers and their male allies to ensure women can fully participate in the shaping of Africa's digital futures. GeDIA has three main areas of focus:

Amplifying advocacy for gender equality and equal participation in public life by leveraging Data Science, Data Visualisation and Social Media Campaigning. In collaboration with Malala Fund and Oxfam, we train gender activists in these areas and develop training tools.
We explore what can be done to ensure fair access to education and careers in IT and Data Science for women and girls. Together with the Zambian Asikana Network for Women in IT, the African Data Science School, and the South African social enterprise CodeSpace, we examine the barriers facing women and girls who seek to work in these sectors. We develop a curriculum in IT and Data Science for schools and colleges, in which content and representation affirm girls and women.
We examine co-design processes for digital-related services and develop co-design methodologies that are more gender-just and participatory. Here we bring together the interdisciplinary design expertise of Engineering, Information Systems and Participatory Development Practice, and involve women as active partners at each stage.

Find out more about GeDIA or read more about the project on the Sheffield Institute for International Development blog. 
Sammia Poveda: Reflecting on gender, Myanmar and freedom

"Images in the news as well as in the Facebook pages of dear friends in Myanmar make my heart ache. It was not long ago that I was working with the May doe Kabar, a rural women's network in Myanmar, to explore the impact that a mobile app was bringing to their efforts as an organisation as well as individually as women. 

This network had the support of UNDP, and its formation was only possible due to the democratic freedoms Burmese Peoples had recently acquired. During over 60 years of military government, people's associations have been prohibited as well as many other personal freedoms. The consequences of such oppression were visible not just through poverty, but through self-censorship. 

Even after a democratic government was elected, people still struggled with internalised fear. This, as well as traditional gender norms, oppressed the rural women I was able to meet during my time in Myanmar. Yet, they were not passive, they took every opportunity offered by them, mainly by UNDP (such as savings, finance and Gender Based Violence Trainings), to learn and grow. 

The research I conducted highlighted how the mobile app was supporting these women's efforts to build a network and have up-to-date information. It also offered inspirational stories that challenged the way they understood womanhood, expanding their horizons. Yet, the technology was a tool in an intricate process, in which social connection was the most powerful element. 

Today, more than ever, I wish this social connection remains, and supports these women as well as every other person in Myanmar to fight for their democracy. We should also support their efforts for freedom."

Find out more about Sammia's work on self-censorship or read more about the app used in this project.
Bhavani Shankar: Gender equality in agriculture

"I was involved in a systematic review of the evidence on how gender equality in agriculture in low and middle income settings influences food security and nutrition in low and middle income countries. There is an intuitively appealing, long-held view that improved gender equality within the agricultural household will improve food security and nutrition outcomes. For example, more equality between men and women in land or livestock holding or income earned from agriculture will likely result in greater control for women over household income and resources, and since much evidence shows that women make more 'nutrition-friendly' use of income, better nutrition will result. This intuitive idea has been asserted in many policy documents and has underpinned many interventions such as improved land titling for women in LMICs, etc.

We set out to review this evidence. We found that, although there is some empirical support for these ideas, few studies have investigated this critical research question very rigorously. Some studies suggest that simply providing more land or livestock to women is not enough, since social norms often still enable men to retain control over incomes. Our review ends with a call to arms for larger, deeper studies of this important area."

Find out more about Bhavani's work in the British Medical Journal - Global Health.
Jenny Pickerill: Women architects and builders in eco-communities

Eco-building is a male domain where men are presumed to be better builders and designers, more men than women build, and women find their design ideas and contributions to eco-building are belittled. Jenny's work suggests that a focus on bodies, embodiment and the 'doing' of building is a potentially productive way to move beyond current gender discrimination.

The article makes three key interventions using empirical material from eight case studies of eco-communities in Britain, Thailand, Spain, the USA and Argentina:

First, it uses a focus on eco-communities to illustrate the enduring persistence of gender divisions in architecture and building. 

Second, by using multi-site examples of eco-communities from diverse countries this article finds more commonalities than differences in gender discrimination across cultures and nationalities. 

Third, it outlines three spaces of opportunity through which more gender neutral approaches are being developed in eco-building:

(1) in challenging the need for 'strong' bodies

(2) by practising more embodied ways of building

(3) by making visible women's bodies in building. The 'doing' and manual aspect of eco-building is unfamiliar for many (not just women) and interviewees commented on the need to (re) learn how to be practical and to understand the physical possibilities (and limitations) of their bodies.

Find out more about Jenny's work on gender and eco-communities.
Megan Blake: Leading the way on food security and community wellbeing

Dr. Megan Blake's research has established her as a leading expert on the effects of food security on community health and wellbeing. Her work describes how to repair those effects by transformative resilience that intersects along multiple points in food systems. To examine the systems that shape food consumption, community food support, commercial food access and surplus food redistribution her research draws on participatory and ethnographic techniques alongside quantitative analysis.

Dr Blake has redefined food support in the UK through her innovative framework, Food Ladders. Dr. Blake's work drove organisational and policy change achieving greater reach, access to resources and influence for food charities, including the UK's largest surplus food redistributor, FareShare and the independent food redistribution network XCess, of which she is a founding member. Her framework has led to policy generation to eliminate vulnerability to hunger, poor nutrition and social isolation through collaborations locally and internationally. Food Ladders has been pivotal to the UK's planning responses, disaster mitigation, and longer-term strategy for more than 40 UK-wide charities, local and central government, and business during Covid19. 

Read more about Megan Blake's work on her blog, GeoFoodie.
Richard Phillips: Using creative writing to explore gender and sexuality

Richard Phillips explores gender and sexuality through his teaching and research. Recently, this has included collaboration with the Glasgow Women's Library, which hosted a series of creative writing workshops, convened as part of the AHRC-funded Storying Relationships project.

An anthology of creative writing, produced through these workshops, was published by HopeRoad in August, 2020, under the title A Match Made in Heaven: British Muslim Women Write about Love and Desire. The anthology, which Richard edited with Nafhesa Ali and Claire Chambers, was featured on Radio 4 Women's Hour. We hope it will encourage other young women, particularly those with Muslim backgrounds, to find their voices as writers and to broach some sensitive but important subjects, as the women in the book have done. This work speaks to a theme of Women's Day 2021: women making choices.
Chris Clark: Highlighting the work of three former PhD students

"Checking through the author contributions to a major upcoming international benchmark book on European Glacial Landscapes (Elsevier), it was very pleasing to note that three of our graduates are the 'headline acts' being joint authors introducing the main section (European Ice Sheet Complex) as well as lead and co-authoring chapters on the Scandinavian and Barents Sea ice sheets. 

The world indeed is changing, thanks to Dr Sarah Greenwood (undergrad and PhD 2008); Dr Anna Hughes (undergrad and PhD 2008) and Dr Monica Winsborrow (PhD 2007)."
Ruth Little: Working with government and farmers for more sustainable agriculture

Ruth is the Principal Investigator on Agri-Environmental Governance Post-Brexit, a project which seeks to develop a model for co-designing the new post-Brexit Environmental Land Management system. She works closely with the Department for the Environment, Food and Rural Affairs (Defra) and recently gave evidence to the House of Commons Environmental Audit Committee on Biodiversity and Ecosystems in which she warned that engaging the hardest to reach farmers will be key to ensuring environmental benefits in UK agriculture.

Ruth also works with farmers to address the challenges they face in terms of mental health, particularly in light of COVID-19 and Brexit which have placed considerable burdens on the farming community.