Prize Honour for Geography Final-Year Undergraduate Dissertation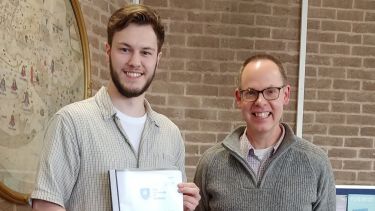 In his project, titled "The hypsometry of glaciated mountain ranges with varying uplift and erosion rates and its influence on their geomorphic evolution" and supervised by Professor Ed Rhodes, Aaron explored how the interplay of tectonic uplift and denudation influences the shape of glaciated, tectonically-active mountain ranges. The term hypsometry refers to the distribution of topography in a given region. His study sites include the Aoraki/Mount Cook Range in New Zealand, the Khumbu Himalaya in Nepal, and the northwestern part of the European Alps. 'Glacial buzzsaw' denudation was evaluated by its ability to limit topographic growth above the modern equilibrium-line altitude. Aaron's findings revealed no clear difference in hypsometry — despite variations in erosion and uplift rates — between the three mountain ranges. He explained the similarity in the hypsometry of the Aoraki/Mount Cook Range and the Northwestern Alps by considering their stage of geomorphic evolution, and found 'glacial buzzsaw' denudation to be operational in these regions. Through his study of the Khumbu Himalaya, where uplift rates exceed 4 mm per year, he further discovered a differing erosional response for regions of rapid uplift and determined that uplift has a more significant influence on mountain hypsometry than was previously thought, particularly at lower elevations.
Study with us
Join an international community of geographers and help tackle the biggest issues in our changing world.
A world-class university – a unique student experience
Sheffield is a research university with a global reputation for excellence. We're a member of the Russell Group: one of the 24 leading UK universities for research and teaching.