Sheffield researchers to study depleting water resources and retreating glaciers in the Andes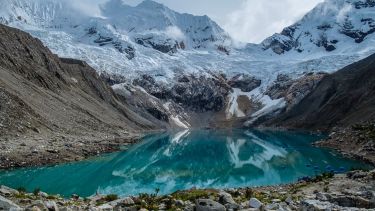 The Andes act as a natural water tower, storing water that around 90 million people rely upon. As our world warms, these water towers are threatened. Many glaciers are retreating, and seasonal stores of snow are depleting. 
Dr Jeremy Ely, the lead investigator of the project said, "by burning fossil fuels, humans have warmed our world and altered the cycle of our most precious resource, water."
The four-year project, called "Deplete and Retreat: The Future of Andean Water Towers", aims to improve predictions of water storage change across the Andes. Ten river catchments, spanning from Peru down to Chilean Patagonia will be studied. 
The team will conduct four field campaigns to install monitoring equipment, use satellite imagery to detect change from space, and simulate the water tower system using state-of-the art computer models. These techniques will be used to investigate how human induced climate change has altered water storage.
"Our project aims to improve our understanding of how snow and glacial ice are stored at high altitudes in the Andes, to help manage water resources as our climate continues to change. We will test our computer models by going back in time, studying records of past climate and previous glacier extent. This will help us get a clearer picture of the future of water across the Andes" Dr Ely continued. 
Jeremy will lead the team of researchers. Co-investigators include Sheffield's own Dr Sihan Li and Dr Julie Jones, as well as Dr Bethan Davies (Newcastle), Prof. Wouter Buytaert (Imperial College London), Dr Tom Matthews and Dr Tamsin Edwards (both Kings College London), Dr Robert McNabb (Ulster University), and Prof. Jonathan Carrivick (University of Leeds). 
Study with us
Join an international community of geographers and help tackle the biggest issues in our changing world.
Flagship institutes
The University's four flagship institutes bring together our key strengths to tackle global issues, turning interdisciplinary and translational research into real-world solutions.