What's it really like to live in an eco-community?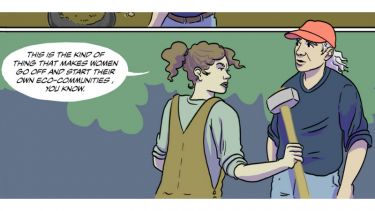 The comic strip aims to capture the daily joys and dilemmas of life in an eco-community, from sharing food and raising children to improving accessibility and addressing issues of diversity and gender equality.
Download the full comic hereEco-communities are collective and collaborative projects that seek to balance human with environmental needs. They encompass eco-villages, intentional communities, co-housing and low impact developments among others. They share common concerns for minimising environmental impact, maximising use of renewable energies and materials, self-provision (such as food), and seeking to reshape social lives, with an emphasis on mutual aid, sharing of spaces and resources, and an ethics of collectivity.
Discussing her experience of these communities, Prof Pickerill said: "Eco-communities make visible the politics of individuals, and in so doing the complex politics of everyday social lives and living together. The negotiations required to share personal spaces, other people's children, the laundry, a neighbours' musical choices, for example, become writ-large in the success or failure of an eco-community.
"We made this comic as a hopeful way to open up some of the conversations about eco-communities – their potentials and also elements that need further reflection."
You can read more about the comic on Jenny's eco homes and communities blog or download the PDF here.
Flagship institutes
The University's four flagship institutes bring together our key strengths to tackle global issues, turning interdisciplinary and translational research into real-world solutions.