Dr Frances Butcher
Postdoctoral Research Assistant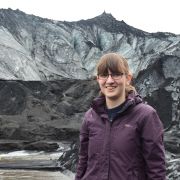 f.butcher@sheffield.ac.uk
+44 114 222 7972
Room C5, Geography and Planning Building
Full contact details
Dr Frances Butcher
Department of Geography
Room C5
Geography and Planning Building
Winter Street
Sheffield
S3 7ND

Profile

I am a Planetary Scientist researching glaciation on Earth and Mars.

I am currently a Postdoctoral Research Assistant on the ERC-funded PALGLAC project (PI: Prof Chris Clark), using glacial landforms to reconstruct the flow dynamics of the former Scandinavian Ice Sheet.

I obtained a BA in Geography from the University of Cambridge in 2015 before moving to The Open University to undertake a PhD entitled 'Wet-Based Glaciation on Mars', which I completed in 2019.

My Mars research encompasses processes related to past and present ice (including glaciers) on Mars, and I was selected by NASA and the Canadian, Japanese and Italian space agencies to serve as a member of the 'Measurement Definition Team' for the International Mars Ice Mapper Mission. I also contributed to landing site selection for the ESA ExoMars ('Rosalind Franklin') rover mission to Mars.

I am an Associate Editor for the journal Earth Surface Dynamics (ESurf) and I am currently the Chair of the International Association of Geomorphologists Planetary Geomorphology Working Group, and curator of its 'Planetary Geomorphology Image of the Month' blog:

https://planetarygeomorphology.wordpress.com/

.

I also lead 'CryoMars', an informal network of UK researchers working on Mars' Cryosphere and Earth Analogues.
Research interests

My key research interests include:

Landforms produced by glaciation and glacial meltwater on Mars, and their implications for environmental conditions in Mars' recent and ancient past.
Current ice deposits on Mars, their implications for recent environmental change, and their potential for future sampling and in situ resource utilisation by human/robotic missions.
Landforms produced by past ice sheets on Earth, and their implications for ice sheet dynamics.
Using comparisons to Earth to better understand glaciation on Mars (and vice versa).
Publications

Journal articles

Chapters

Conference proceedings papers

Theses / Dissertations

Datasets

Other
Grants

2019: International Union for Quaternary Research (INQUA) Conference Grant (€1320)
2019: Lunar and Planetary Institute Career Development Award ($1500)
2019: GeoPlanet Research Mobility Grant (€1200): Awarded by Laboratoire de Planétologie et Géodynamique, University of Nantes
2018: Royal Astronomical Society Travel Grant (£900).
2018: British Society for Geomorphology Postgraduate Conference Attendance Grant (£300).
2017: Pierazzo International Student Travel Award ($2000): Awarded to one non-US graduate student globally per year by the Planetary Science Institute.
2016: Europlanet Grant: Full funding to attend Europlanet RPIF 3D training workshop, Mullard Space Science Laboratory.
2016: 6th International Mars Polar Conference European Student Travel Grant (€666): Awarded by the International Association of Cryospheric Sciences.
2015: Ogden Trust Trustees' Award (£900).
2015: British Society for Geomorphology Postgraduate Conference Attendance Grant (£850).
2015: ProViDE Summer School EU Student Travel Grant (£500).
Teaching interests

I teach on the following modules in Sheffield:

Polar and Alpine Change MSc(Res) Research Project
The Planets
Our Frozen Planet
Critical Digital Geographies in Practice (MSc Applied GIS )


Past teaching activities include:

Guest lectures for 'Digital Terrain Analysis' module, University of Manchester MSc Geographical Information Science (2019 and 2020)
Invited Workshop Coordinator: 'Planetary Geomorphology in Mars Landing Site Selection', South East Physics Network GRADnet Planetary Science Workshop, National Physical Laboratory, London, (2016).
Demonstrator: Natural Environment Research Council CENTA Doctoral Training Program ArcGIS Training Course, The Open University (2016)
Professional activities

2nd prize for '3 minute thesis' competition (2018), Open University STEM faculty.
Nature Astronomy Prize for Best Student Presentation (2017) at the 1st British Planetary Science Congress, Glasgow, UK, 4-5 Dec. 2017 (Poster).
Paper subsequently reported in a Nature Astronomy Research Highlight
John Glen Prize (2017) for the best student talk at the International Glaciological Society's British Branch Meeting, Lancaster University, UK, 5-7 Sept. 2017.
Prize for best student talk (2017) at the Astrobiology Society of Britain: Habitability Beyond Earth conference. Open University, UK, 13-14 Sept. 2017.
William Vaughan Lewis Prize (2015), University of Cambridge prize for undergraduate geography dissertation.
Corpus Christi College Prize (2015), Corpus Christi College (University of Cambridge) prize for undergraduate dissertation.
Hewitt Exhibition (2015), Corpus Christi College (University of Cambridge) prize for contributions to outreach and admissions initiatives between 2012 and 2015.