Professor Mark Bateman
Department of Geography
Professor in Palaeoenvironmental Reconstruction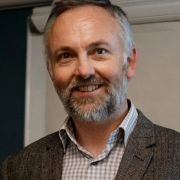 Profile

Mark Bateman received a First Class BSc in Geography from the University of London in 1991 and a DPhil from Sussex University in 1995.

In 1995 he joined the Sheffield Geography department as a PDRA to set up and run the luminescence laboratory for the Sheffield Centre for International Drylands Research.

In 1998, Mark Bateman was appointed Lecturer in Physical Geography, promoted to Senior Lecturer (2004), Reader in Palaeoenvironmental Reconstruction (2006), and awarded a Chair in 2011.
Qualifications

BSc in Geography
DPhil in Geography
Research interests

My high profile collaborative research focuses on sandscapes as an archive for understanding past depositional processes and environmental changes which have shapes the landscape we live in.
Three themes are centred around this:

Quaternary palaeoenvironments
Warm and cold-climate aeolian sands
Luminescence dating
Publications

Journal articles

Chapters

Conference proceedings papers
Teaching interests

The undergraduate and postgraduate teaching I specialise in relates to understanding past changes in climate and environment which have shaped the landscape we live in. This covers the fields of geomorphology, sedimentology and Quaternary Science with the modules I contribute to trying to make inter-disciplinary linkages between these fields as well as giving student the skills required to understand the preserved record.

I have particular interests in periglacial and desert environments and each year supervise students projects in these areas.

My teaching interests reflect my research interests so I can keep students up-to-date on current developments. The style of my teachng varies from teaching out and about on fieldclasses, in the laboratory and through lectures and small group tutorials.
Additional research projects

Understanding former periglacial and glacial environments

During much of the Quaternary, NW Europe experienced cold, non-glacial conditions.

A legacy of these periods are the periglacial structures found in the stratigraphic record, many of which contain wind-blown material.

Unfortunately, the reconstruction of the conditions responsible for these features has been hindered both by a limited understanding of cryogenic processes and structures, and by the fragmentary nature of terrestrial Quaternary sequences.

Recent progress in understanding contemporary features indicates that the cryostratigraphical record may hold key information on the rates of climatic amelioration.

Investigations are currently being carried out to date and characterise such structures in Arctic Canada and relate them to relict evidence in NW Europe.

The work is partly funded by The Royal Society and NERC. Over 25 publications have come from this work so far.

---

Key outcomes

Erosion of dune systems in the McKenzie Delta have been dated and tied to Lake Aggassiz outburst floods which may have caused the Younger Dryas event (Nature paper)
Work on Brecklands, UK has shown all patterned ground related to last glacial-interglacial cycle although within this features are poly-cyclic.
The Northsea icelobe of the last British and Irish Icesheet reached its maximum limites very late within the glacial stage and was dynamic ponding up significan pro-glacail Lakes Humber and Pickering

 Possible route of outburst floods from pro-glacial Lake Aggassiz. Work in McKenzie Delta showed for the first time evidence for the Northern route at just before the start of the Younger Dryas (Murton et al 2010).

A series of time slices showing the advance, dynamics and retreat of the Vale of York and North sea icelobes of the last British and Irish Icesheet (Bateman et al 2015). 

Recent papers

Full publication list, abstracts and links for download can be found at Google Scholar

Late Quaternary aeolian activity

Within both the winter and summer rainfall zones of Southern Africa are a range of geomorphic features indicative of aeolian activity, many of which are not presently active.

Establishing the timing and regional significance of phases of activity will inform debates about the timing and extent of major Late Quaternary rainfall zone shifts, coastline reconfigurations and environments associated with the emergence of modern humans.

This work has formed the basis of over 40 printed journal articles with past funding from Leverhulme Trust.

---

Key outcomes

An understanding of sediment 'memory' and dune dynamic responses to climate changes is critical for the extension of palaeoenvironmental records to incorporate multiple phases of aridity within specific regions. 
That complex environmental responses of dunes to climate can only be understood through the integration of humid-arid palaeorecords using detailed site investigations and lacustrine/marine - aeolian sedimentary interfaces.
In the southern Cape coastal area there is the potential to integrate aeolian dynamics into the wider regional climatic and the archaeological record of early modern people.
Past sea-level fluctuations and coastal reconfigurations have had a major impact on dune dynamics in the southern Cape coastline of South africa over at least two glacial-interglacial cycles.

Schematic model of the Mid-Late Quaternary evolution of the Wilderness barriers found in the southern cape South Africa (Bateman et al 2011).

---

Recent papers

Bateman, M.D., Bryant, R.G., Foster, I.D.L., Livingstone, I., Parsons, A.J. (2012). On the formation of sand ramps: A case study from the Mojave Desert. Geomorphology, 161–162, 93–109.[pdf available click here]
Bateman, M.D., Carr, A.S., Dunajko, A., Holmes, P.J., Roberts, D.L., McLaren, S.J., Bryant, R.G., Marker, M.E. and Murray-Wallace, C.V. (2011). The evolution of coastal barrier systems: A case study of the Middle-Late Pleistocene Wilderness barriers, South Africa. Quaternary Science Reviews, 30, 63-81.
Cawthra, H.C., Bateman, M.D., Carr, A.S., Compton, J.S. and Holmes, P.J. (2014). Understanding Late Quaternary Change at the Land-Ocean Interface: A Synthesis of the evolution of the Wilderness Coastline, South Africa. Quaternary Science Reviews, 99, 210-223.
Carr, A.S., Bateman, M.D., Roberts, D.L., Murray-Wallace, C.V., Jacobs, Z. and Holmes, P.J. (2010). The last interglacial sea-level high-stand on the southern Cape Coastline of South Africa: Optically Stimulated Luminescence and Amino Acid Racemization chronologies. Quaternary Research 73, 351-363

Advances in luminescence

The time dimension is fundamental to most Quaternary studies. Although vast advancing in dating have been made methods all require laboratory-based protocols that are not available during field sampling.

Until recently, instantly derived chronologies remained largely aspirational. It is now possible to make in field measurements of luminescence intensity which give a first order approximation for sediment age.

Research I have undertaken (funded by WHITE ROSE and RGS) has shown in the context of coastal dunes this signal can be dominated by differences in age and provide key temporal information.

Research using portable luminescence in the Namibian Sand sea has also allowed calibration of the portable luminescence single in terms of age allowing rapid evaluation of age in the field.

A separate project (funded by DFF) has be undertaking laboratory experiments to replicate conditions in the shearing zone under a glacier to see if such conditions can cause luminescence signals to reset without the need for light exposure.

---

Key Outcomes

It is possible to rapidly generate accurate, high resolution down core OSL data using a portable OSL reader.
While they do not provide an instant chronology, down core POSL profiles do provide high resolution relative age profiles to enable differentiation of older from the younger sediments, identify phases of sedimentation and temporal hiatuses.
Conditions within the shearing zone under glaciers do hold the potential to reset the OSL signal of some grains.

High resolution portable luminescence results down two dune profiles from Holkham, Norfolk (from Bateman et al 2015).

Convertion of portable luminescence measurements to age applied to dunes of the Namib sand sea (from Stone et al 2015) 

Recent papers

Bateman, M.D., S. Stein, R.A. Ashurst, K. Selby (2015). Instant Luminescence Chronologies? High resolution luminescence profiles using a portable luminescence reader. Quaternary Geochronology 30, 141-146. doi:10.1016/j.quageo.2014.12.007 [pdf available click here]
Bateman, M.D., Swift, D.A., Piotrowski, J.A. and Sanderson, D.C.W. (2012). Investigating the effects of glacial shearing of sediment on luminescence. Quaternary Geochronology, 10, 230-236.
Stone, A.E.C., Bateman, M.D. and Thomas, D.S.G. (2015). Rapid age assessment in the Namib Sand Sea using a portable luminescence reader. Quaternary Geochronology 30, 134-140. doi:10.1016/j.quageo.2015.02.002