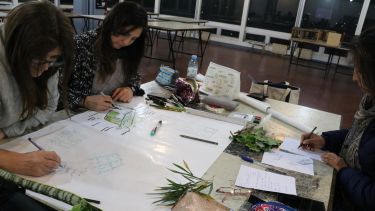 Off
Journal Articles
María del Carmen Redondo-Bermúdez, Anna Jorgensen, Ross W. Cameron, Maria Val Martin. Green infrastructure for air quality plus (GI4AQ+): Defining critical dimensions for implementation in schools and the meaning of 'plus' in a UK context, Nature-Based Solutions, Volume 2 (2022).
Redondo Bermúdez MdC, Kanai JM, Astbury J, Fabio V, Jorgensen A. Green Fences for Buenos Aires: Implementing Green Infrastructure for (More than) Air Quality. Sustainability. 2022; 14(7):4129.
María del Carmen Redondo-Bermúdez, Idris Tugrul Gulenc, Ross W. Cameron, Beverley J. Inkson. 'Green barriers' for air pollutant capture: Leaf micromorphology as a mechanism to explain plants' capacity to capture particulate matter, Environmental Pollution, Volume 288 (2021).
Verónica Fabio, J. Miguel Kanai and Janice Astbury. A New Landscape Architecture: The living fences experience of Buenos Aires, 4D Journal of Landscape Architecture and Garden Art. no. 55-56 (2020): 54-64.
Blog Posts
Knowles, Caroline. School hedges: experiments in improving air quality in Buenos Aires.
Astbury, Janice (contributor) (2020, May 3). Global Roundtable: Covid has upended all the normal routines in our lives and work. How do you imagine you might be changed by it, both professionally, but also personally as you negotiate a new post-virus "normal"? The Nature of Cities.(Click on 'List of writers' and then on 'Janice Astbury' to see her post from Buenos Aires.)
Tools
Booklet documenting the Breathe Deep Explorations Workshops for co-operative members interested in working in the green infrastructure sector (in Spanish and English)
Videos  
See our Youtube Channel.
Co-operative members and students planting a green barrier and garden at Angela Medone school, Buenos Aires in November 2019  (1 minute)
Breathe Deep – Co-operative members receiving training in creating green infrastructure (4 minutes)
Ateneo Breathe/Respirar – recordings from a series of interactive online seminars and discussions (in Spanish)
Outreach/Dissemination via partners