Careers and employability
Our graduates are highly employable and progress into a diverse range of employment sectors where they use their skills to address some of the biggest issues in our changing world.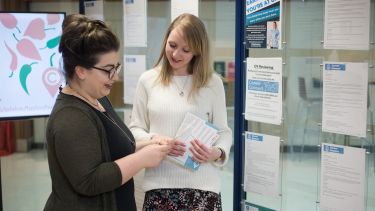 Employability is embedded throughout our degrees, from first-year tutorials through to the Level 3 module on Professional Skills in Environmental Science. This combined with a focus on developing hands-on skills and the department's reputation for academic excellence, ensures that our graduates are in high demand.
The flexibility of our courses enables students to pursue their individual interests, so our graduates progress to careers in a variety of sectors. These include public sector roles in local government and the Civil Service, roles as surveyors and environmental consultants in private sector companies, research and teaching roles in the education sector and management roles in NGOs and international development organisations.
Wherever they go our graduates make an impact, often progressing into key management and leadership positions. Recent graduates have secured positions in the following fields:
Environment and Sustainability

Environment Advisor, Natural England
Flood and Coastal Risk Management Officer, The Environment Agency
Waste and Recycling Officer, Hackney City Council

Development and Global Issues

Research Assistant, British Red Cross
Youth and School Engagement Campaigner, Oxfam

Travel and Journalism

Environment Journalist, Guardian
Media and Communications Executive, Lonely Planet
Advertising Executive, ITV

Education

English Language Teacher, TEFL Vietnam
Geography Teacher, Teach First Graduate Programme

Business

Audit Graduate, Deloitte
Operations Graduate, Santander
Store Location Analyst, Jaguar Land Rover
Logistics Manager, Royal Mail

Regeneration and Planning

Senior Consultant, Regeneris Consulting
Town Planner, Sheffield City Council
Research Assistant, Transport for London
Information and Data Manager, Scottish Government

Geographical Techniques

Geophysicist, Statascan
Weather Forecaster, Met Office
Our graduates regularly come back to the department, to share their experiences with our current students, through alumni networking events and contributions to modules.  Each year we hold an industrial advisory board where we discuss course content to ensure our courses remain current and meet employers' changing needs.
---
91% of our Geography graduates are in employment or further study within 15 months of graduation (Graduate Outcomes Survey 2019-2020).
---
I work for a consultancy firm using data analytics to create investment plans for global utility companies, mainly within the water and energy sector. The company mainly hires mathematicians, so my geography degree brought fresh insight into how data is used within the real world. The job enables me to further develop skills that I gained from my degree such as GIS and statistics - don't expect the learning to stop once you've graduated!

Dan Homer

BA Geography
---
Field classes and practical skills
The Department of Geography is located in a 'living laboratory' where students can explore the physical landscape of the Peak District, the rich cultural and social heritage of Sheffield, and environmental processes and issues across the region.
The area is a testbed for issues like climate change, landscape protection, wildlife conservation and sustainable rural communities. This means that our students have a rich learning resource on their doorstep, which enables them to explore and understand some of today's key challenges and develop the practical skills that employers value. Find out more about our fieldwork philosophy.
Employability in the curriculum
The University of Sheffield provides many opportunities for students to develop and enhance their personal attributes and ability to secure the outcomes they seek, and then to manage their onward careers with confidence.
Learn more about the Sheffield Graduate Attributes.
---
The course offers a diverse range of topics taught by enthusiastic, experienced lecturers with vast expertise. The course allows you to develop a range of analytical, technical and communication skills, which are vital for any career. During my final year, I secured a Data Analyst role with Yorkshire Water, which I started on completion of my degree. I believe that the degree I studied and particularly the area that my masters research topic covered was a key stepping stone in helping me to secure this position.

Heather Woodhead

MEnvSci Environmental Science
---
Opportunities
There are numerous opportunities for students to gain employability skills and experience.
SURE
Sheffield Undergraduate Research Experience (SURE) offers undergraduate students in their penultimate year of study the chance to be directly involved in research activity at the University of Sheffield, working in partnership with an academic staff member on a bespoke real-life research project during the summer vacation.
GeogSoc
GeogSoc, our student society, is one of the most vibrant societies in the University and provides you with a peer network that arranges everything from study skills training to a diverse range of social events. It's an inclusive society which encourages integration between students across all levels of study, including postgraduate. The society also has strong links with local schools, providing opportunities for students to volunteer, develop key skills and help encourage the next generation of geographers.
---
Studying Environmental Science gave me a great base on which to begin my career. One of the biggest things I gained from the course was the confidence and conviction to pursue the area of environmental protection because learning about the impact humans have on the environment, coupled with the knowledge that we can do something to protect and enhance it, is inspiring as well as humbling.

Josh Tinsley

BSc Environmental Science
---
Study with us
Join an international community of geographers and help tackle the biggest issues in our changing world.
Explore the University
Discover what sets Sheffield apart at our next on-campus open day.