Forge your career with Sheffield Geography
Wherever they go, Sheffield geography graduates make an impact. You too will find yourself equipped with the technical skills, expertise and personal attributes it takes to become part of the next generation of change makers.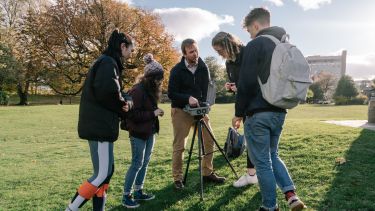 The flexibility of our courses will enable you to specialise and pursue individual interests, so you can progress into a diverse range of careers across a variety of sectors.
91% of our Geography graduates are in employment or further study within 15 months of graduation (Graduate Outcomes Survey 2019-2020)
Our recent graduates have secured positions in the following fields: Policy and government, environment and sustainability, teaching and education, travel and journalism, research, charities, advocacy and the third sector, international development, planning and housing, and GIS and data science to name but a few.
Here are some examples of organisations where our graduates have gone on to work:
---
I work as a Project Administrator at the Overseas Development Institute (ODI). ODI is an International Development think tank working to inspire people to act on injustice and inequality. My job is to assist project managers in the running of different research and technical advisory projects on aid and finance in lots of countries such as Mali, Uganda and Liberia. Studying Geography at Sheffield cemented my interest in international development and influenced my desire to work in the sector!

Eve Stanislawski 

BA Geography
---
As a Sheffield Geography student, you have a rich learning resource right on your doorstep. The Peak District National Park is your living laboratory, where you can explore the physical landscape as well as the rich cultural and social dynamics of Sheffield.
This wondrous area is a testbed for issues such as climate change, landscape protection, wildlife conservation and ensuring sustainable rural communities. Having the Peak District right on your doorstep will allow you to delve into and understand some of today's key challenges and develop the practical skills that employers value. Find out more about our fieldwork philosophy.
---
Throughout your degree, you will be provided with many opportunities to develop personal skills and attributes in order to enhance your confidence and employability. From first-year tutorials through core technical and personal skills development in Year 2, to our new 'Employing Geography Skills in Sustainability and Social Justice' module in your third year. This combined focus of hands-on skills and a departmental reputation for academic excellence, ensures that you are in high demand. 
"Our new 'Employing Geography Skills in Sustainability and Social Justice' module was developed for students to apply the wide range of skills gained through their degree to real-world challenges identified by stakeholders within the University, and based around themes of sustainability and social justice. In doing so, the module aims to improve our students' self-awareness, identify their skills and attributes, and to confidently articulate these to employers. This forms part of our overall vision of supporting our students as they transition into life after their studies." 

Dr Stephen Livingstone

Professor in Physical Geography
Learn more about the Sheffield Graduate Attributes.
There are numerous opportunities for you to gain employability skills and additional experience throughout your degree.
Placements 
You will have the choice to do a placement year alongside your degree, helping you to gain experience in a professional working environment. Many Sheffield Geography students opt to do a placement with the help and support of the department. 
---
I can now show employers that I have the knowledge and skills to do well in a professional job setting, and I can give many examples of certain skills gained and practised during my placement year. One benefit of my placement is the openness of my team to welcome me back when I graduate.

Lauren Rimell - Placement in Environment, Health and Safety team at Siemens

BA Geography with Employment Experience 
SURE
Sheffield Undergraduate Research Experience (SURE) is an opportunity in your penultimate year of study to be directly involved in research activity at the University of Sheffield, working in partnership with an academic staff member on a bespoke real-life research project during the summer vacation.
---
The SURE scheme has allowed me to see how those abstract theories that we study in lectures are applied to real life settings, and the importance of this is for the development of society. In the future, I hope to do a research masters to develop these methods further.

Selina Treuherz - Volunteer at Foodhall

BA Geography
---
Societies and volunteering
GeogSoc, your student society, is one of the most vibrant societies in the University and provides you with a peer network that arranges everything from study skills training to a diverse range of social events and trips. It's an inclusive society which encourages integration between students across all levels of study, including postgraduate. The society also has strong links with local schools, providing opportunities for students to volunteer, develop key skills and help encourage the next generation of geographers.
Study with us
Join an international community of geographers and help tackle the biggest issues in our changing world.
Explore the University
Discover why Sheffield is the right choice for you at one of our open days or events.