Our research and teaching works across the boundaries of physical sciences, social sciences and humanities to understand and to tackle complex global challenges.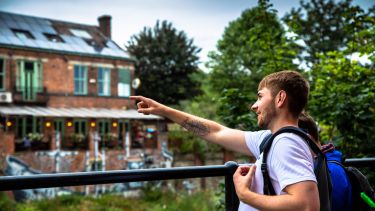 Geography
Our Royal Geographical Society accredited degrees are informed by our world-class research and address key issues such as climate change, international development, sustainability and social justice. Broadly speaking, our BA Geography course explores human relations with space, society, politics and culture, while our BSc Geography course explores the physical and environmental processes that shape the natural world.
Courses are highly flexible; all students can choose modules from across our human and physical geography specialisms, as well as modules from other disciplines. Students can also (subject to certain criteria) transfer between BA, BSc and MGeogSci during the course of their studies.
Our courses include training in key skills such as Geographical Information Systems (GIS) and policy analysis, as well as extensive practical experience through fieldwork. Students have access to significant careers and employability support which, combined with the department's outstanding reputation for teaching and research, ensures a high level of graduate employment and academic progression.
Geography courses
Environmental Science
Environmental Science is a multidisciplinary subject exploring the processes that control and impact on the wide range of habitats, ecosystems and environments on Earth.
Environmental Science is taught jointly by the Department of Geography and the School of Biosciences. Both departments undertake research at the frontiers of the discipline, so you'll be taught by experts in their fields. You can tailor your degree to suit your interests, studying modules across the environmental sciences. You'll have the opportunity to undertake fieldwork and explore themes such as global environmental change, biosciences, geoscience, and environmental quality and technology.
Studying Environmental Science can lead to careers which shape the future of our planet. Our graduates work across the public, private and voluntary sectors, undertaking employment that includes working as conservationists, rangers, sustainability scientists, air/water/soil/food quality control officers, quarantine officers, environmental engineers/scientists/technicians and environmental consultants.
Environmental Science courses
Geography and Planning
Study with us
Join an international community of geographers and help tackle the biggest issues in our changing world.